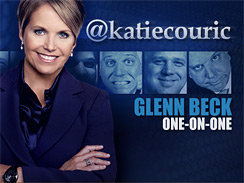 Where do you go after you've just interviewed Glenn Beck? How about to the founder and funder of The Daily Beast.
Mediaite has confirmed the next interview on Katie Couric's lengthy weekly web show "@katiecouric" will be with Barry Diller and Tina Brown. Besides Diller and Brown, coming up soon on the show will be interviews with Hugh Jackman and Al Gore.
Besides the new web show, Couric (and an exec at CBS News) are adding even more responsibilities.
Couric will also have a Glamour magazine column. Here's part of the release, out today:
Award-winning journalist Katie Couric has joined Glamour magazine as a monthly columnist, editor-in-chief Cindi Leive announced today. Couric, the anchor and managing editor of CBS Evening News With Katie Couric, will interview the world's most captivating women, starting with an exclusive talk with First Lady Michelle Obama for the magazine's December issue.

In a monthly Q&A column, Couric will explore what makes her subjects so inspiring to other women and girls, something the groundbreaking journalist is particularly interested in. Whether she's sitting down with a head of state, a pop star or an athlete, Couric will speak with the female figures young women most want to hear from right now—in the candid, intimate, provocative way that only she can.
In other CBS News news, Paul Friedman has been upped to Executive Vice President of CBS News. Here's the internal memo, sent yesterday, from CBS News & Sports President Sean McManus:
I am very pleased to announce that, effective immediately, Paul Friedman is promoted to Executive Vice President, CBS News.

Paul joined CBS News in April 2006 and, over the past three and a half years, Paul has worked closely with me to improve and upgrade every aspect of CBS News' capabilities, from technology, to newsgathering to long-term strategic initiatives.

Paul has been involved in every major decision relating to hard news during his tenure at CBS News. Thanks to Paul, the news division has grown stronger behind the scenes and in front of the camera. He has been a leader in helping guide CBS News' moves to restructure the way we gather news globally. Paul's news sense is superb and his involvement has been of critical importance on a daily basis as well as during major events, including CBS News' campaign, conventions and election coverage last year.
Have a tip we should know? tips@mediaite.com