Daily Caller: Michelle Bachmann Suffers From Stress Related Migraines; Alleges Heavy Pill Use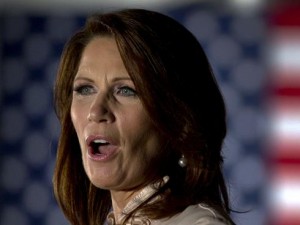 Anonymous sources, who were former aides to Republican presidential candidate Michele Bachmann, revealed concerns about their former boss to the conservative website The Daily Caller. The most shocking allegation is that Bachmann suffers from severe migraine headaches that can often "incapacitate" her, and as a result she takes many pills to help treat her condition. If true, such a stress-induced medical condition leaves many wondering about her ability to handle the job of President and is precisely the doubt these sources wanted out there about her.
One former adviser suggests the migraine attacks happen once a week, and that at least three times forced her into the hospital:
"She has terrible migraine headaches. And they put her out of commission for a day or more at a time. They come out of nowhere, and they're unpredictable. They level her. They put her down. It's actually sad. It's very painful."
And given their intensity, the source claims Bachmann must engage in heavy pill use and must constantly be medicated:
"The migraines are so bad and so intense, she carries and takes all sorts of pills. Prevention pills. Pills during the migraine. Pills after the migraine, to keep them under control. She has to take these pills wherever she goes."
In case the motives of these sources wasn't apparent enough, one former aide explicitly asks "as president, when she's in crisis management mode, is she going to have the physical ability to withstand the most difficult challenges facing America?" By revealing such details or making these allegations, clearly the sources think the answer to that question is "no." And now many others will also begin to suspect Bachmann might not be physically or emotionally able to handle the most important and demanding position in the free world.
Most interesting however is the fact that Daily Caller ran this story, rather than a traditional "left-wing mainstream media" outlet that could have been somewhat easily dismissed by Bachmann as merely a hit piece full of conjecture. Instead, it seems all conservatives have one unifying goal: prevent President Obama from being re-elected. And as the sources revealed, they worried that if they didn't speak up now, Bachmann's medical condition could have caused a much bigger headache for everyone later if it first blew up when she was the Republican candidate in a general election.
Yet until Bachmann or others in her camp address this story, it remains to be seen whether these allegations represent needed and appreciated medicine for the Republican nomination process or merely an attack by former, and likely bitter aides who are desperate to remedy the country's problems with any Republican candidate other than Bachmann.
Check out the full story at The Daily Caller.
Have a tip we should know? tips@mediaite.com