Boys Club? Artist Observes Daily Show/Colbert Report Guest Lists A Sausage-fest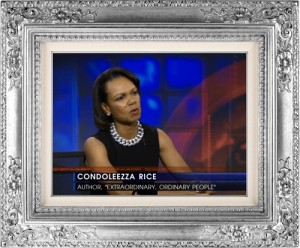 79% of The Daily Show's guests in 2010 were men and only 21% were women, according to a recent art installation featured at New York City's Winkleman Gallery. In addition, The Colbert Report's 2010 guest line-up was even more homogeneous, featuring 82.5% male guests.
Artist Jennifer Dalton discovered this considerable disparity after casually wondering when the last time a female guest had been on The Daily Show.
"I thought it was me, that I was just looking for that," Dalton said in an interview with writer Caroline Miranda. "Then I went into the archives and I was like, 'No f*cking way.'"
"[Colbert and Stewart] are heroes of mine and I think they're doing really important work, but I just end up confused. It's like are you with me or against me? I think of you as on my team, but maybe you don't think of me as on your team? I would just love for these producers to be like, 'Here's a pile of women we rejected. Did we reject them too quickly?'"
This conundrum makes up the heart of Dalton's "Cool Guys Like You" exhibition, which opened in Chelsea last Friday, and is showing until October 15. Dalton screencapped dozens of Daily Show guests, organized them by their subject areas, and placed the men in gold frame, the women in silver ones. The difference is stark, as frames in gold vastly outnumber the ones in silver.
Dalton is not alone in her criticism of the show's gender disparity. Last year, Jezebel writer Irin Carmon drew the ire of Daily Show staffers when she criticized the hiring of Olivia Munn and characterized the show as a "boy's club". The women of The Daily Show responded with an open letter saying the show wasn't "a boy's club or a girl's club, it's a family."
In 2011 so far, only 15% of Daily Show guests have been women.
Have a tip we should know? tips@mediaite.com