Rick Perry On Immigration: 'Doesn't Make Any Difference What The Sound Of Your Last Name Is'
Perry On Immigration: Sound Of Your Last Name 'Doesn't Make Any Difference'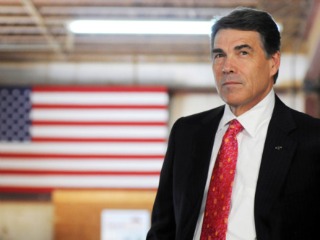 Much has been made over Texas Governor and GOP presidential hopeful Rick Perry's blunt speaking style and sometimes brash attitude, but what of his, actual, you know. Political opinions? Perry stands out from many of his fellow candidates and others within his party when it comes to his stance on an issue very close to his home state: Immigration.
At one point during night's GOP debate, co-sponsored by CNN and the Tea Party Express in Tampa, Perry — who has been open about his disapproval of Arizona's tough stance on immigration (and, some might argue, on anyone who might "look" like an illegal immigrant, ifyoucatchmydrifthere) — was asked about his support
for a 2001 measure granting financial aid to the children of illegal immigrants in Texas:
The bottom line is it doesn't make any difference what the sound of your last name is. That is the American way. I'm proud that we are having those individuals be contributing members of our society rather than telling them, you go be on the government dole.
That stance was booed by many in last night's audience, and met with disagreement by Perry's fellow candidates, but Perry, who has had experience dealing with immigration matters, is making a strategic — if bold — move. As the Governor of a state with a huge Latino population, Perry knows that his success in politics hinges partially on his ability to garner their votes and support. Catering to Latinos for whom immigration is a huge issue (while noting that this isn't an issue for all Latino voters) might also help the GOP draw in an ever-growing segment of the population the party has had a recent history of alienating.
But by no means does that mean Peryr is "soft" on immigration. Previously, the Governor offered harsh criticism of the Obama administration's stance on border control, even calling Obama "a stand-up comic" who did not take the issue of border security as seriously as he needs to.
h/t CNN.com
Have a tip we should know? tips@mediaite.com