Dan Abrams Discusses The Difficulties In Charging Rutgers Webcam Case As A 'Hate Crime'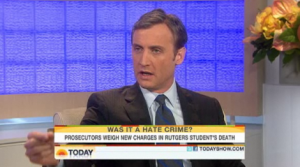 As more facts in the sad case of Rutgers freshman Tyler Clementi, who committed suicide after his roommate, Dharun Ravi, broadcasted secretly filmed video of him engaged in gay sex over the internet, surface, many questions have arisen. While discussions have flared about the lack of privacy in a digital age, others have focussed on the tough debate over whether or not the state of New Jersey can or should charge Ravi or his accomplice Molly Wei with a hate crime. This morning, NBC's Chief Legal Analyst and Mediaite founder Dan Abrams discussed the case on Today.
Right now it looks like Ravi and Wei will receive charges of invasion of privacy as well as distributing videos taken without consent. Abrams argued that, to bring any more charges, the state will have to prove that this was more than just a prank with the proof possibly coming from the online postings of both Ravi and Clementi.
"They're going to need more than just the [Twitter post] that we just read about him, quote, being a gay — about making out. They're going to need to know that the reason that he did it, that his intent here was to intimidate him based on sexual orientation. That's going to be tough legally in a case like this. A lot of people are going to say, 'Wait a second, what do you mean it's going to be tough? Look at the facts of what happened.' The facts are one thing, but as a legal matter, you're going to have to show the intent of the person who was doing it."
This whole situation is incredibly sad yet indicative of any number of important issues of the day. It will be interesting to see where things go from here.
Have a tip we should know? tips@mediaite.com