David Clarke Accuses Dem Rep of Playing 'Ugly Race Politics' For Wanting Ben Carson to Withdraw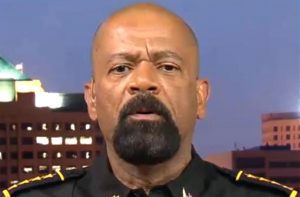 After much speculation, it was finally announced today that Dr. Ben Carson was President-elect Donald Trump's choice to lead the Department of Housing and Urban Development. Trump had tweeted a while ago that he was seriously considering Carson as HUD Secretary and Carson himself said an announcement was imminent.
Even though the news didn't come as a surprise, Democrats still used the report to rail against Carson, largely based on his own adviser's comments that Carson felt he wasn't qualified to head an agency due to his lack of government experience. And the pesky little fact that, as a neurosurgeon who's never held any office, one would be hard-pressed to find how he is qualified to look over HUD.
In response to this, Rep. Ted Lieu (D-CA) released a snarky statement in which he compared Carson's nomination to someone staying at a Holiday Inn Express, making mention of his complete lack of experience and knowledge regarding housing and urban development. Lieu concluded by calling on Carson to withdraw due to being unqualified.
Despite there being no mention of race in his statement, one Trump supporter feels Lieu's comments were racial in nature. Milwaukee Sheriff David Clarke, who is being considered by Trump to head up the Department of Homeland Security, sent out the following tweet today.
For this Asian-American to stoop to this kind of ugly race politics on behalf of the Democrat Party is reprehensible https://t.co/yjKKFUdvsg

— David A. Clarke, Jr. (@SheriffClarke) December 5, 2016
Right away, many wondered what Clarke was talking about regarding "ugly race politics" regarding Lieu's remarks on Carson.
Rep. Lieu didn't say a single word about race in these comments, so why are you accusing him of it? @SheriffClarke https://t.co/xKYZfdwicD

— Charles Johnson (@Green_Footballs) December 5, 2016
@SheriffClarke how is this about ugly race politics?

— Jennifer Bendery (@jbendery) December 5, 2016
@SheriffClarke There's nothing about race in that article or his statement. Did I miss something? YOU appear to be playing the race card.

— Chris Mosser (@ChrisMosser) December 5, 2016
Clarke wasn't the only one accusing Democrats of being racist when it came to opposing Carson as HUD chief. After House Minority Leader Nancy Pelosi said Carson was not qualified, Mike Huckabee took to Twitter to call her either racist or dumb.
Ben Carson is first HUD Sec to have actually lived in gov't housing. Fancy Nancy Pelosi says he's not qualified; is she racist or just dumb?

— Gov. Mike Huckabee (@GovMikeHuckabee) December 5, 2016
[image via screengrab]
–
Follow Justin Baragona on Twitter: @justinbaragona
Have a tip we should know? tips@mediaite.com