David Duke Speaks Out on Trump: I'm Not a White Supremacist, I'm a 'Human Rights Activist'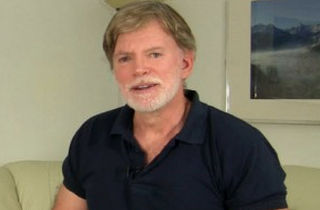 Former KKK leader David Duke spoke out tonight about Donald Trump's KKK controversy in a radio interview with Fox News' Alan Colmes.
Duke endorsed Trump last week. Last Friday, when asked about it, Trump shrugged and said, "I disavow, okay?" Then, when asked about it on CNN on Sunday, he repeatedly refused to disavow it and said he didn't know about this endorsement in the first place. He responded later in the day by pointing to his earlier disavowal.
Duke said he has not endorsed Trump, he just plans to vote for him and is telling others to vote for him. Yes, he thinks there's a difference.
He said the media is "smearing Donald Trump unfairly" and argued for why Trump would be the best choice to avoid World War III, even if Duke doesn't like Trump's "lip service for Israel." He also lashed out at "Jewish neocons."
As for the Trump controversy, Duke firmly insisted he is not a white supremacist, he has consistently rejected that label, and classified himself as "a human rights activist" who's concerned about the government trying to "destroy the European people in America by making us a tiny minority."
At one point, he blamed liberal media bias because of how the Democrats used to embrace former KKK member Robert Byrd. Colmes countered that Byrd repeatedly disavowed and apologized for his membership in the KKK. Duke said he now disagrees with much of what the KKK does too.
Later on in the interview, Colmes asked Duke about charges of anti-Semitism against him and Duke proceeded to go on a lengthy rant about how Jews control American politics––on the left and on the right.
Duke clarified that he doesn't hate all Jews, but feels they wield too much influence and claimed that Israel has "attacked America with terrorism."
Listen above, via Fox News Radio.
[image via screengrab]
— —
Follow Josh Feldman on Twitter: @feldmaniac
Have a tip we should know? tips@mediaite.com
Josh Feldman - Senior Editor