Trump Launched a Website to Fight Back at Rubio's Ads About His 'University'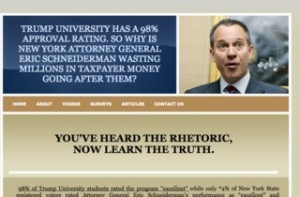 Discussion of the failed Trump University line of real estate seminars has picked up recently after a conservative group released ads that featured scorned clients to persuade viewers not to vote for Donald Trump in primary presidential elections.
Rival Marco Rubio piled on Trump about the lawsuits he is dealing with as a result of his ill-fated foray into education during a recent debate. Trump has routinely dismissed any and all talk of Trump U and the lawsuits, even going so far as to suggest the judge in one of them is biased because he's Hispanic, but now, he's secured a domain name and gotten to work telling his side of the story.
He shared approval numbers that do not match the current grade given to the defunct "university" by the Better Business Bureau.
Trump University has a 98% approval rating. I could have settled but won't out of principle!

— Donald J. Trump (@realDonaldTrump) February 29, 2016
Then he shared a press release, as the bottom of which was a link to 98PercentApproval.com.
Phony Rubio commercial. I could have settled, but won't out of principle! See student surveys. https://t.co/KKHiBH554d

— Donald J. Trump (@realDonaldTrump) February 29, 2016
There are positive surveys linked on the site, though that does not necessarily mean that the negative surveys were not simply ignored.
The website appears to function primarily as an attack on Eric Schneiderman, the New York Attorney General who brought one of the suits against Trump U. The front page blares the following:
98% of Trump University students rated the program "excellent" while only *4% of New York State registered voters rated Attorney General Eric Schneiderman's performance as "excellent" and Schneiderman thinks he could be the next governor?
When he brought the suit in 2013, Schneiderman said this:
We started looking at Trump University and discovered that it was a classic bait-and-switch scheme. It was a scam, starting with the fact that it was not a university.
He could never have foreseen that he would become the latest person to be attacked by the mogul in his quest for the presidency.
[image via screengrab]
For more from Lindsey, follow her on Twitter.
Have a tip we should know? tips@mediaite.com