Deadspin Claims GOP Candidate Never Played Football, Candidate Tweets Football Pic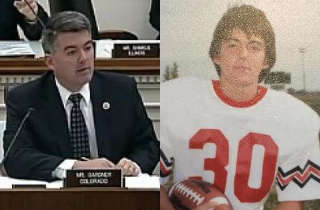 Deadspin thought it had a scoop Wednesday night when it talked to a high school football expert from Colorado Republican Senate candidate Cory Gardner's hometown who said he'd seen every moment of Yuma High football and "Cory Gardner wasn't on the football team."
Who cares? Well, Gardner's high school football experience was prominently featured in a Washington Post profile of him in which he compared Democrats to a football team stuck running the same plays after the opposition has figured them out. But Deadspin said the football tale and metaphors were obviously concocted:
So, if the two-way career is indeed fictional, why would somebody as accomplished as Gardner make up such a whopper?

Perhaps he got caught up in the setting: Gardner let the Post tail him as he mingled with tailgaters before a football game at the Air Force Academy.

Or perhaps the candidate is intimidated by the jocky branches on the incumbent's family tree. Mark Udall's dad, former Rep. Mo Udall (D-Ariz.), was a pro basketball player and member of the original Denver Nuggets before getting into politics. And Udall's uncle, Stewart Udall, is the former Secretary of the Interior in the Kennedy Administration, the guy who forced owner George Preston Marshall to racially integrate the Washington Redskins by threatening to bar him from leasing the federally owned D.C. Stadium.
Just one problem. Gardner's got photographic proof:
I never thought my unheralded sports career would make it onto @Deadspin pic.twitter.com/llKf62Z7UL #copolitics

— Cory Gardner (@CoryGardner) October 15, 2014
If you're tempted to complain that the above photo doesn't prove he actually played, maybe take five.
Deadspin added the following update (at the top of the post, to their credit), intimating that their source punked them:
UPDATE: Gardner campaign spokesman Alex Siciliano sent the following, presented in its entirety, via email: "Cory Gardner played football from Junior High through Sophomore year in high school." Eli Stokols of FOX-31 in Denver is reporting the Gardner campaign told him, "Gardner played football through soph year of high school, never played varsity." Reached Wednesday night at his home, Chuck Pfalmer, longtime stats keeper for Gardner's alma mater, Yuma High School, and a primary source for the story, told me: "Cory did play football for three years" in high school, and that his records show that Gardner spent his junior year "on varsity." During a lengthy conversation about Yuma High football on Tuesday, Pfalmer repeatedly said Gardner had not played football at the school.
[Images via Cory Gardner]
——
>> Follow Evan McMurry (@evanmcmurry) on Twitter
Have a tip we should know? tips@mediaite.com