Dear Media: Don't Turn Bergdahl into Snowden with Hero vs. Deserter Narrative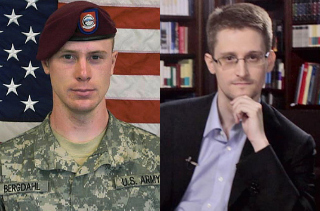 It has been just over 48 hours since we first learned that Bowe Bergdahl, the only known prisoner of war from the Afghanistan conflict, had been released by the Taliban after five years in captivity in exchange for five detainees being held by the U.S. in Guantanamo Bay, Cuba. And already, a media narrative has begun to take shape: Is Bergdahl a "hero" or a "deserter"?
The genesis of the debate is a lengthy report filed by CNN's Jake Tapper, which quotes members of the soldier's platoon who are still angry with him for allegedly leaving his weapons behind and walking away from his post "with nothing more than a compass, a knife, water, a digital camera and a diary."
American soldiers lost their lives trying to rescue Bergdahl and now five Taliban militants have been more or less set free in exchange for his ability to come home. On top of that, there are the emails purportedly written by Bergdahl before his capture — as first uncovered by the late reporter Michael Hastings — in which he admits to being "ashamed to be an American." So clearly, there are important questions to be asked about the nature of Bergdahl's capture and how far the U.S. was obligated to go to bring him home. But those questions do not boil down to a simple dichotomy of "hero" vs. "deserter."
Unfortunately, that is exactly what we're seeing from some of the media's most prominent players. Here's a sampling of the type of viewer engagement that has been happening on Twitter today (note that CNN, Fox News and MSNBC are all playing the same game):
Deserter or hero? I'll discuss Bowe #Bergdahl release w/ @JakeTapper @NicRobertsonCNN @BarbaraStarrCNN @CNNValencia today 1PM ET #Wolf

— Wolf Blitzer (@wolfblitzer) June 2, 2014
Bowe Bergdahl: 'Deserter' or hero? http://t.co/zhn83Gdapq

— NowWithAlex (@NowWithAlex) June 2, 2014
Lots of you are split on Bowe Bergdahl: hero v deserter. We need more answers but… what are your thoughts today? #CNN

— Brooke Baldwin (@BrookeBCNN) June 2, 2014
#Bergdahl: Hero or deserter? The controversy over his disappearance and the Taliban terrorist swap. @Foxnews: Watch: http://t.co/JLJGqE9bmR

— Eric Shawn (@EricShawnonFox) June 2, 2014
Look familiar? The media treatment Bergdahl is receiving before he even returns to his home in Idaho is strikingly similar to the one that Edward Snowden received not only last week from NBC News, but throughout the past year since he first leaked classified NSA documents to the press. For Snowden, the most common dichotomy is "Patriot" vs. "Traitor." At least that's the angle NBC News latched onto to promote the exclusive sit-down:
Edward Snowden: #Traitor or #Patriot? http://t.co/fywUjIWi5m pic.twitter.com/KVhB5Mbayw

— NBC News (@NBCNews) May 28, 2014
Do you view Edward Snowden as a traitor or a patriot? Tweet your thoughts w/#Traitor or #Patriot.

— TODAY (@TODAYshow) May 28, 2014
During Brian Williams' exclusive interview with Snowden, NBC News asked viewers to weigh in with their opinion of Snowden using the hashtags #patriot or #traitor. But this was more than just a promotional exercise of user engagement. The network turned around and drew some major conclusions from the data.
NBC tracked the prevalence of each hashtag over a 36-hour period leading up to and following the Snowden interview. While the two hashtags were neck-and-neck before the interview aired, the #patriot mentioned apparently skyrocketed once Snowden started speaking on air. In the end, #patriot won out over #traitor 59% to 41%, which can only be seen as a major PR success for Snowden. Here's the chart NBC produced showing the results (click to enlarge):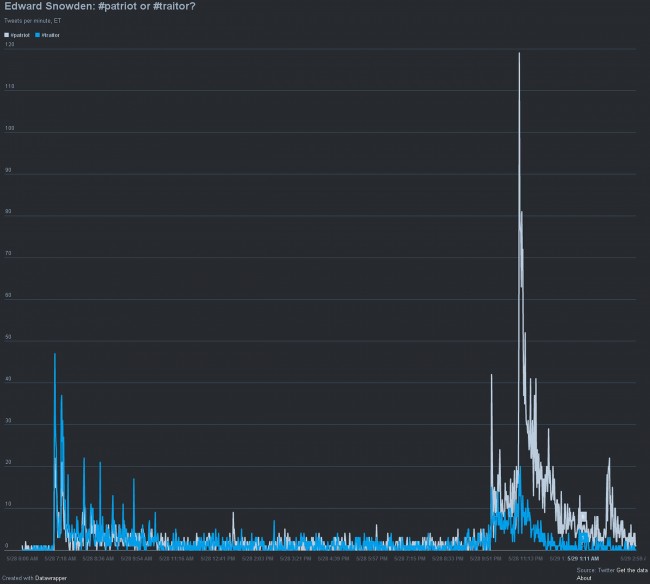 And here's NBC's Chuck Todd breaking down those numbers on Meet The Press:
So, okay, after Snowden was given an hour to make his case on national television, more people thought he was a "patriot" than thought he was a "traitor," but those diametrically opposed options miss the point. Snowden is not simply a "patriot" or a "traitor," he's a little bit of both. Or maybe he's neither. Or just maybe, as Newt Gingrich put it on Meet the Press yesterday, he's a "patriotic traitor," whatever that means. But the point is that the media should not attempt to boil him down to one reductive noun.
And the same goes for Bowe Bergdahl. We don't yet know for sure how Bergdahl ended up in the hands of the Taliban, and it's quite possible we never will. The media should be doing everything it can to get to the bottom of what happened and what the consequences for this country will be. The irony is that that's exactly what Tapper's piece was trying to do. But instead of following a path that accepts a nuanced answer, the mainstream media, and especially cable news, have started a new hashtag game.
Is Bowe Bergdahl a #hero? Or is he a #deserter? Like Snowden, he probably can't be reduced to just one or the other, and we should collectively resist the urge to do so.
[Photos via Wikimedia Commons]
— —
>> Follow Matt Wilstein (@TheMattWilstein) on Twitter
Have a tip we should know? tips@mediaite.com