Debbie Wasserman Schultz on Nevada Chaos: Hillary, Sanders Camps Should Denounce Threats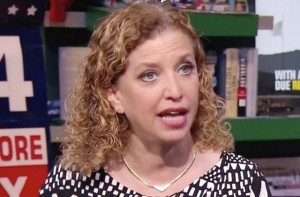 The head of the DNC is now speaking out about the chaos this past weekend at the Nevada Democratic convention.
Sanders supporters in Nevada went ballistic on Saturday over what they denounced as a rigged delegate system that kept them out and rewarded Hillary Clinton. The resulting scene was so chaotic the police had to be called in. There were scuffles, protesters were disruptive, a Democratic senator was booed, and there were threats made against state Democratic chair Roberta Lange.
Yesterday the Nevada Democratic party warned the DNC that this could be a problem at the party's national convention because of what they describe as a violent streak amongst Sanders supporters.
On CNN this afternoon, Lange opened up about the incredibly disturbing threats against her and demanded that Sanders apologize for his supporters' actions.
And minutes before Lange appeared on air, Wasserman Schultz herself released a statement, obtained by Politico, reacting to the mass chaos and saying both campaigns should vehemently denounce the threats and the convention chaos:
We are deeply concerned about the troubling details laid out in the letter from the Nevada Democratic Party. We will be reaching out to the leadership of both of our campaigns to ask them to stand with the Democratic Party in denouncing and taking steps to prevent the type of behavior on display over the weekend in Las Vegas. Our democracy is undermined any time threats, intimidation, physical violence or damage to property are present. If there are legitimate concerns, they must be addressed in an orderly, civil and peaceful manner.
She insists that the delegate selection process was set far in advance and "the process for nominating a Democratic Presidential candidate is not something taken lightly."
Wasserman Schultz did take a shot at Sanders recently for criticizing the delegate process but then also trying to use it to win.
[image via screengrab]
— —
Follow Josh Feldman on Twitter: @feldmaniac
Have a tip we should know? tips@mediaite.com
Josh Feldman - Senior Editor