Debra Messing 'Dismayed' With Appearance on Megyn Kelly's Show: I 'Regret Going On'
Debra Messing says she regrets going on Megyn Kelly's new show after the former Fox News host made some interesting comments about a gay Will & Grace super-fan who was part of her Monday audience.
Messing recently posted a picture of cucumbers on her Instagram page, and a fan asked her why she went on Kelly's show, calling the appearance a "fail." Messing responded with "Honestly I didn't know it was [Megyn Kelly] until that morning. The itinerary just said Today Show appearance. Regret going on. Dismayed by her comments."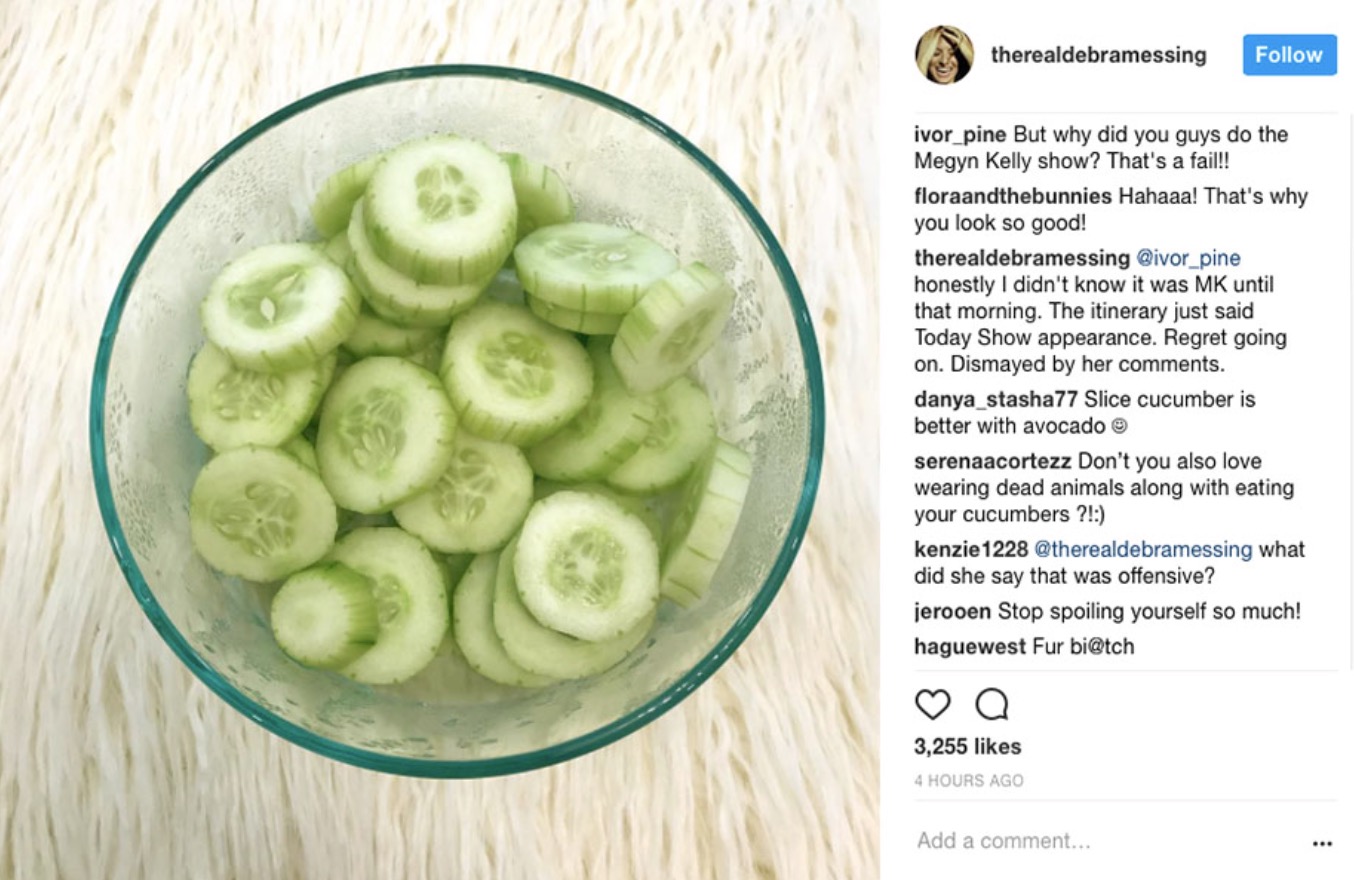 The commotion began when Messing joined her colleagues for a cast interview on the premiere of Megyn Kelly Today. The actress seems particularly concerned about some joking remarks that Kelly made when she invited audience member Russell Turner to join them onstage for the Q&A.
"Is it true that you became a lawyer – and you became gay – because of Will?" Kelly asked Turner.
Turner enthusiastically responded "I look at Will Truman, I'm like, 'He has it made': lawyer, best apartment in New York City, and gay? Come on, trifecta."
Kelly closed out the segment by awarding Turner free tickets to a Will & Grace taping in Los Angeles, which earned a round of applause. "I don't know about the lawyer thing, but I think that Will & Grace thing and the gay thing is going to work out great," Kelly said.
During the interview, Kelly spoke positively about the show's cultural impact and promotion of the LGBT community. While Kelly's comments about Turner drew objections from certain corners online, an insider told PEOPLE that the remarks were a joke, and everyone was caught up with the excitement.
"It became even clearer when she spent much of the interview asking the show's creators how proud they were of the positive social impact of Will & Grace and the progress it brought about for gay rights," said the source.
Interestingly, Messing previously retweeted her co-star Sean Hayes when he said he enjoyed the interview.
Having fun on the premiere episode of @megyntoday. https://t.co/DJi3qjt9K8 pic.twitter.com/E2xv2tOIDo

— Sean Hayes (@SeanHayes) September 25, 2017
Watch above, via NBC.
[Image via Wikimedia]
— —
>> Follow Ken Meyer (@KenMeyer91) on Twitter
Have a tip we should know? tips@mediaite.com