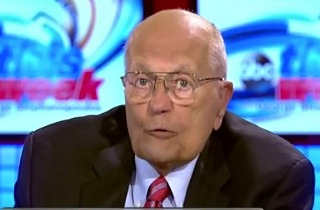 Democratic Rep. John Dingell tried using the viral "ice bucket challenge" to blast his Republican colleagues as insensitive to victims of Lou Gehrig's disease (amyotrophic lateral sclerosis). It didn't work too well.
Dingell tweeted Wednesday: "Since 2011, House Republicans have cut NIH funding by billions. And you thought dumping ice water on your head was cold."
He was referring to a congressional vote that put into effect a slew of federal budget cuts, including cuts to the National Institute of Health, which performs research on Lou Gehrig's disease, a.k.a ALS. And the popular ice bucket challenge, wherein people challenge their friends to dump ice water on their heads, benefits charities fighting the disease. Celebrities and politicians, both Democratic and Republican, have participated.
Dingell's tweet, of course, is meant to paint Republicans as hypocrites for participating in a trend that raises awareness against a disease while also voting to cut federal funding to fight that same disease.
But the problem with the Dingell tweet is two-fold:
First, the Huffington Post found that among the U.S. House members who've taken the ice bucket challenge and also voted to cut funding to the NIH, nine of them are Democrats.
Second, Dingell doesn't understand how an effective appeal to hypocrisy works.
Typically, hypocrisy as an accusation only works when someone asserts a position and then says or acts in the opposite manner.
For instance, I might make fun of Rep. Dingell's (heh) name, because it sounds like old fecal matter. If I were to then publicly trash other writers for delightedly making poop jokes with an elected official's name, I'd be a hypocrite.
It is not hypocritical, however, for people to support one type of funding (private charity) to fight a disease while also wanting to reduce a different type of funding (taxpayer) that fights the same disease.
Republicans are generally against federal government overspending; but they are also staunch advocates of charitable giving. That is not hypocrisy.
Besides, the Huffington Post also found that the money raised for charities fighting Lou Gehrig's disease far outpaces the budget the government allocated to the NIH for Lou Gehrig's research. By more than $25 million.
Dingell's (heh) office did not return request for comment.
[Image via ABC/screen grab]
— —
>> Follow Eddie Scarry (@eScarry) on Twitter
Have a tip we should know? tips@mediaite.com