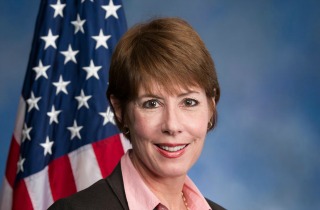 It's not often that you hear a member of Congress willingly put his or her $174,000 salary in jeopardy for a policy aim. But one freshman House Democrat says if Congress does not authorize funding for the Department of Homeland Security in the next four days, she will donate her congressional pay to a charity.
"With threats ranging from ISIL, to cyber security, to safety at our borders, it's unacceptable for Congress to shut down the Department of Homeland Security," Rep. Gwen Graham (D-FL) said in a statement. "There are enough moderate Democrats and Republicans ready to pass a clean Department of Homeland Security funding bill. It's time for leadership in both parties to set politics aside and fund the Department of Homeland Security."
Graham went on to say she will donate her congressional pay to the Warrior Beach Retreat — a charity dedicated to helping wounded combat veterans — if Congress fails to fund the DHS. She also called on her colleagues to do the same.
"If congress lets obstructionists shut down the Department of Homeland Security, each member should give up their paycheck," she continued. "There should be an immediate consequence for letting partisan games threaten the security of the American people."
The battle over DHS funding stems from a desire among Republicans to repeal President Barack Obama's executive orders on immigration reform. Republicans want to include a measure to repeal the executive orders in a DHS funding bill, a measure that Democrats wholly oppose.
In January 2013, the House of Representatives passed "No Budget No Pay," a bill that proposed nixing congressional pay if neither the House nor the Senate approve a budget for the coming fiscal year by April 15. President Barack Obama signed that bill in February 2013.
[Image via U.S. House of Representatives]
— —
>>Follow Andrew Desiderio (@forza_desiderio) on Twitter
Have a tip we should know? tips@mediaite.com