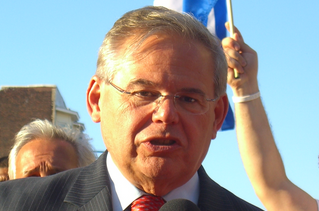 Before President Barack Obama gets his chance to announce the shift in relations with Cuba this afternoon, a member of his own party has released a damning statement against the move. In a statement, Sen. Bob Menendez (D-NJ) said the president "vindicated the brutal behavior" of the Cuban government by making a deal to bring home American citizen Alan Gross, who spent several years in captivity there.
The Senate Foreign Relations Committee chairman noted the "moment of profound relief" for Gross and his family before going on to say, "Let's be clear, this was not a 'humanitarian' act by the Castro regime. It was a swap of convicted spies for an innocent American."
RELATED: Rubio Lays into Obama's Cuba Moves: 'Worst Negotiator in Modern U.S. History'
"President Obama's actions have vindicated the brutal behavior of the Cuban government," Menendez continued. "There is no equivalence between an international aid worker and convicted spies who were found guilty of conspiracy to commit espionage against our nation."
"Trading Mr. Gross for three convicted criminals sets an extremely dangerous precedent," the senator added. "It invites dictatorial and rogue regimes to use Americans serving overseas as bargaining chips. I fear that today's actions will put at risk the thousands of Americans that work overseas to support civil society, advocate for access to information, provide humanitarian services, and promote democratic reforms."
Like Republican Senators Marco Rubio and Ted Cruz, Sen. Menendez was born to Cuban immigrants who fled their home country due to the brutal policies of the Castro regime.
[Photo via Wikimedia Commons]
— —
>> Follow Matt Wilstein (@TheMattWilstein) on Twitter
Have a tip we should know? tips@mediaite.com