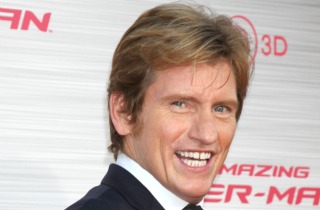 Comedian Denis Leary went on a pretty wild rant to the Daily Beast about Bill Cosby culminating in a declaration that he will never eat Jell-O again.
Leary spoke with The Daily Beast about everything from his new FX show Sex&Drugs&Rock&Roll to his buddy Jon Stewart to political correctness (his thesis being "If you don't like it, don't fuckin' go to the show."
But Leary is incredibly… leery (thank you, thank you, I'll be here all week) about Cosby and how the man who used to be the "adopted American uncle" turned out to be "this criminal rapist guy."
And really, it's best if you just read the rest of what he said verbatim:
The weirdest thing to me is you had prescriptions for Quaaludes? What the fuck is wrong with you! You could get Quaaludes fallin' out of people's pockets in the '70s, and this guy had, what, seven prescriptions for Quaaludes? That is a creepy motherfucker. It's just so weird, man. It's really like Jekyll and Hyde.

It's crazy that he got away with it for so long. You're talking about over 40 women who have accused him of rape. So many victims. [Daily Beast]

Dude at that point, you're into Stalinesque territory there of wielding so much power and shutting people up. I think I can honestly say this: It's going to be impossible for me to listen to a Bill Cosby bit again from any era. Fuck the show, the show's dead. And fuck Jell-O. I'm never going to eat Jell-O again. No offense to the Jell-O people, but it just reminds me of him. Fuck, I don't think I can listen to any of his classic routines because it would automatically bring me back to creepy page one.
Naturally, Leary isn't the only celebrity speaking out against Cosby, but Cosby does have a few remaining celebrity defenders, Whoopi Goldberg among them.
[image via Helga Esteb/Shutterstock]
— —
Follow Josh Feldman on Twitter: @feldmaniac
Have a tip we should know? tips@mediaite.com
Josh Feldman - Senior Editor