Despite Assurances, Al Jazeera America Still Feeling Like Another Liberal Network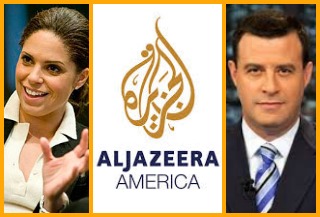 Al Jazeera America debuted this week in a way that can only be summed up in one word:
Inauspicious.
First there were stories surrounding the network's struggles around selling ad time, the very lifeblood of media survival. Here's what one New York advertising agency buyer told the New York Post:
"It's hard to sell [ad time] to an American buyer. There's so much backlash. I'd never advise anyone to buy it. It's a much easier way to get that audience with less risk."
The backlash, of course, stems from the notion that Al Jazeera is the preferred network by 4 out of 5 Al Qaeda operatives worldwide (Glenn Beck –never one to shy from hyberbole–called the network "the voice of the enemy" this week, for example). After 9/11, it seemed whenever Osama Bin Laden wanted to get a message out to the masses, Al Jazeera had a Blockbuster Video overnight drop box waiting to receive whatever the late terror leader had recently recorded.
The network, based in Qatar and owned by its oil-rich government, could have decided to do two things: (1) Refuse to broadcast what OBL and other al Qaeda leaders were selling, or (2) Air the tapes. The decision was made in favor of the latter. You can draw your own conclusions as to why, but a journalistic argument can be made for both sides.
When looking at Al Jazeera's body of work and primarily its strengths as a whole, the newsgathering, resources and reach of its Qatar operation are impressive, particularly in the hotbed that is somehow now even hotter called the Middle East. Meanwhile, on this side of the pond, American media is trending towards more of an opinion-based model and less towards hard news (MSNBC, for example, was found to be 85 percent opinion by a Pew Research study earlier this year, a big shift from a decade prior). Reason? Simple: Hard news is more expensive and complex to produce, and outside of huge breaking events (terror attacks, natural disasters, etc.) opinion tends to rate higher.
All of that said, it is odd to see Al Jazeera America—whose self-described strength is supposed to be straight, sober, hard journalism—taking the route it has to this point regarding its hiring process. The most notable names added to the on-air roster include Soledad O'Brien and David Shuster…both of whom are mostly viewed as left-of-center, agenda-driven personalities. As far as conservative hires to provide balance, that doesn't appear to be in the cards despite AJAM's hiring spree (at least for now). Regardless, within five minutes after its launch, the network went into opinion mode by calling out outspoken rivals such as Bill O'Reilly, Piers Morgan, Glenn Beck, and Al Sharpton, stating American viewers now had "a new choice."
As far as behind the camera, AJAM has added 200 former staffers of Current TV, which it purchased from Al Gore for a cool $500 million…but not to acquire its paltry audience of 24,000 viewers per night, but by inheriting Current's distribution deals, thereby putting it in 48 million homes (for context, CNN, Fox News and MSNBC are all in over 100 million homes). Still, this is not to say that all hires at AJAM make it Current 2.0. Why follow in the footsteps of a spectacular loser, right?
To that end, John Siegenthaler (formerly of NBC News), an anchor as down the middle as a Wolf Blitzer or Shep Smith, will anchor the 8:00 PM newscast. Joie Chen (former CNN) will anchor the 9:00 PM show, "America Tonight" – a mix of domestic and international news stories. Chen was never known to make stories all about her, either.
In the end, Al Jazeera will have more than the usual obstacles to overcome, including:
• Growing competition from internet-based news
• The perception—thanks to its name alone for those who don't follow media closely–that it's an Arab news organization with an anti-American agenda
• Or…even worse in the eyes of some, as another Current or MSNBC from an ideological perspective
And don't forget: Less Americans seem interested in international news and are more compelled by perspective and opinion on domestic matters…
For now, AJAM has deep pockets and will reach more and more homes as it evolves over the next few years.
Deep pockets that ensure even if it's losing money by the barrel, that won't mean its lenses will be shuttered anytime soon.
— —
Follow Joe Concha on Twitter @ConchSports
Have a tip we should know? tips@mediaite.com