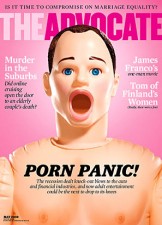 Freelance writer Matt Siegel submitted an article entitled "Business Before Pleasure," to Advocate.com, where it lived, happily published, as a "Health Exclusive" for all of 8 days before it was mysteriously pulled down without explanation. Could the website, owned by a parent company that also owns multiple gay porn magazines, have stepped in to protects its other interests when the controversial piece had too many people talking?
Siegel's piece covered the unique relationships between the porn industry (especially the gay porn industry), the government, HIV/STD testing agencies, and advocacy groups, and specifically wondered if the makers of adult films are responsible for the health care of its performers. It is a deep and thoughtful look into the way the industry handles the myriad health issues raised during the normal course of business. As a candid snapshot of even the porn industry's most taboo subject, Siegel's article certainly made some people squirm.
The piece was published on August 12th, 2009. On August 20th, 2009, the piece was removed from the website, along with a previous piece by Siegel published in April 2009 about sex clubs. Siegel began his article as a small question and answer piece, which grew into a larger one about porn performers' rights and public health. Siegel submitted his article on August 5th and went through a week-long editorial process with Ross von Metzke, Editor of Advocate.com. Von Metzke took out some controversial quotes, including this one by Michael Weinstein, president of the AIDS Healthcare Foundation, discussing the porn moguls who succeed despite government regulation:
These people are fabulously rich. Larry Flynt has made a large fortune by exploiting young people. His wife died of AIDS. He watched her wither and die. Shame on him. Why should we care whether their profits go down? Why would we put that on a higher level than the health of these young people?
The explosive quote also proved to be a bit risky for the publisher. Understandably, Advocate.com might not want to publish a potentially libelous statement. But the piece also loses its penetrating edge without these sorts of quotes. Enter, confusion: was Advocate.com trying to play it safe or was there another reason the piece was so heavily edited and ultimately taken down?
Siegel tells Mediaite that when von Metzke published the piece, he asked Siegel what he thought of the edits. Siegel responded that they were "a little dry," to which, Siegel says, von Metzke did not respond happily. Von Metzke explained that the quotes he took out were too risky and could pose legal questions. No one, however, explained to Siegel why his article was taken down on August 20th.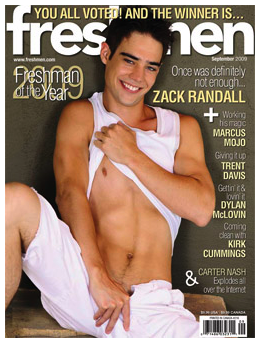 Advcocate.com is owned by Regent Media, a company that owns the Advocate magazine and OUT magazine. Regent also owns numerous porn publications including Freshmen, Unzipped, Men, Club Freshman.com, Friction, Fresh Men, and Men Machine.
Here's where the eyebrows get raised: the same day Siegel's piece was taken down, the L.A. Times published an article about two foundations that filed complaints against 16 porn companies for workplace safety violations about condom use. As the issue became more public, did the porn execs being portrayed as the enemy of public health step in?
Siegel says his piece was definitely making ripples in the industry. "Porn actors started writing to me, thanking me for starting a conversation," he tells Mediaite. "I'd heard from some companies that I'd interviewed that I was really starting a conversation and the story was getting around."
So did Advocate.com pull Siegel's story to prevent damage to an industry its parent company has deep interests in? When reached for comment Advocate.com has not yet replied.  Siegel says, "I don't know why they took it down. I thought they might not hire me again, but I never thought they'd take it down."
To view the unedited version of "Business Before Pleasure," click here.
Have a tip we should know? tips@mediaite.com