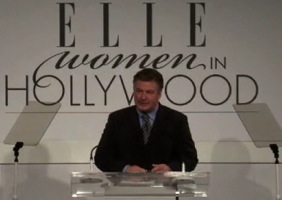 It's official: Alec Baldwin and Steve Martin will be co-hosting the Oscars. Martin, who's successfully hosted the Oscars twice in the past, is a common-sense pick; teaming him up with Baldwin, who's never hosted before, is a bolder move.
How'd he get the gig? The answer may be in these four words: Elle Women in Hollywood.
Theories from the plausible to the far-fetched have abounded about the Baldwin pick. The Business Insider brings up his popularity thanks to 30 Rock; The LA Times' Gold Derby blog says it has something to do with Martin and Baldwin co-starring in an upcoming romantic comedy called "It's Complicated;" Reuters' Fan Fare blog guesses that Oscar organizers are trying to "generate some publicity and maybe even some controversy given Baldwin's history with social and political activism."
But as recently as October 19th, Baldwin hosted the Elle Women in Hollywood awards and brought down the house. As the LA Times' Dish Rag blog mentions (they have a lot of Hollywood blogs): "guess who was in the audience? Oscar co-producer Adam Shankman. And when Carol Burnett suggested in front of the audience that Baldwin host the upcoming Oscars, Shankman just smiled." Two days after the event, Variety wrote that Baldwin so stole the show that "it's possible that Baldwin now sits on the hosting shortlist."
Some definite winners here: Elle, whose event generated a ton of buzz in Hollywood even before the Oscar hosts were announced, Shankman, who is winning early praise on the 'Nets for his inspired pick, and of course Baldwin himself. In the Oscar press release, he called hosting the event "the opportunity of a lifetime."
Not to be overlooked: J.R. Havlan and Stewart Bailey, who collaborated to write the Elle WIH routine that served Baldwin so well. Havlan has been a writer at The Daily Show since it started, and has written material for Jon Stewart's Oscar gigs; Bailey is a former co-executive producer of The Daily Show and is now a highly regarded television producer in his own right.
Given their momentum, they're likely to be in high demand in the near future: a number of previous Oscar hosts, like Jon Stewart and Conan O'Brien, have brought their writing teams over from their shows in the past, and history could repeat itself with Baldwin's Elle of a performance. Judge for yourself:
Have a tip we should know? tips@mediaite.com