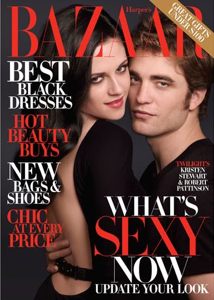 When rumors surfaced that editor-in-chief Glenda Bailey was putting Janet Jackson on the cover of the October issue of Harper's Bazaar following the tragic death of her brother, many wondered whether the magazine had finally sold out. After 100 plus years of putting the epitome of chic on it's cover, it seemed as though the glossy was giving in, selling itself short, and ultimately, without much disguise, doing what they knew would sell.
When the October issue came to light, surprisingly, all seemed to be at peace. Jackson graced the cover like so many of Harper's Bazaar's past cover girls have: chic, elegant, impeccably styled. Donning an exquisitely draped Donna Karan dress in one photo, with Jackson-eque leather fingerless gloves, and a Ryan Wilde felt hat in another, the shoot and interview played homage to Jackson, her brother, and to the magazine's ability to glamorize a celebrity frequently found on the few pages of the tabloids for fashion mishaps.
But with Kristin Stewart and Robert Pattinson, stars of teeny bopper favorite Twilight and the wildly anticipated New Moon were announced as next month's cover stars, all bets seem off. The newsstand cover, Gucci dress or not, looks more like a high school yearbook photo for the "Cutest Couple" superlative than an high fashion shot.
The spread features two redeeming shots: one featuring Stewart and Pattinson on a motorcycle, her in a sequin Alexander Wang dress, him in Dior Homme, and the other featuring the two against a column, Stewart in a belted Versace gown and this season's token YSL pumps.
But all the McQueen and Prada in the world could not keep Stewart from sporting her usual "uncomfortable in my own skin" appearance and Pattinson's "most popular guy in high school" aura. You can dress them up in couture, but this alone does not make them Bazaar cover worthy.
Have a tip we should know? tips@mediaite.com