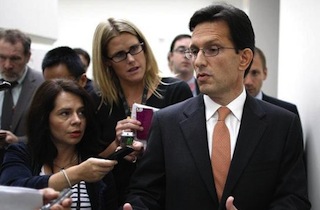 House Majority Leader Eric Cantor's (R-VA) stunning defeat last night in a Republican primary has led political leaders and the chattering class alike to immediately begin answering the time-honored political question: how the hell did this happen? Cantor outspent his opponent, tea party favorite Dave Brat, by about fifty times, enjoyed name recognition as high as any member of Congress, was viewed as a leading conservative in a conservative district (VA 7th), and was never considered at risk.
The speculation has ranged from Cantor not spending enough time in his district, to Cantor not being conservative enough, to Cantor's position on the single issue of immigration. The media is now roaring about how no establishment Republican is safe from the tea party's unforgiving wrath.
But the New York Times suggests another possible explanation: his religion.
Cantor is the lone Jewish leader in the Republican party, and the Times quotes David Wasserman of the Cook Political Report alleging Cantor was "culturally out of step" with a redrawn district and that "part of this plays into his religion. . .You can't ignore the elephant in the room."
Really? Sure, there were some changes when the district was redrawn, adding unfamiliar rural areas that turned the district more conservative. But he'd won re-election six times. Now, against an unknown candidate, whom even the tea party had abandoned as too much of a longshot, his religion mushroomed into an elephant? Local Republicans suddenly became queasy about his religious views since the last election?
"The dream of a Jewish Republican speaker of the House is no more," POLITICO's Alex Burns wrote. "For Jewish Republicans, Cantor is a singular figure, the only Jewish member of the House majority and the lone Jewish leader in a party that has strenuously courted the community in recent presidential elections, to little avail."
It's probably true that this is viewed as a setback by certain Jewish groups; after all, the hope of having a Jewish speaker of the House has been dashed. But the evidence that this was a pure political exorcism seems far stronger than any inflammatory suggestion of religious prejudice.
Update- 12:51 p.m.: And just for reference, the Berman Jewish Databank's study of Jewish population by Congressional district found 0.27 of the population in Cantor's district is Jewish (link goes to spreadsheet), marking no change from when the Databank conducted a similar study about Jewish population in all congressional districts for 2000 and 2006.
[Image via Jonathan Ernst/Reuters]
Have a tip we should know? tips@mediaite.com