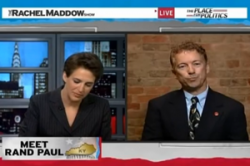 It's hard to blame Rand Paul for pulling out of a Meet the Press appearance on Friday after the kind of week he'd had following Tuesday's Republican primary election in Kentucky. His scathing interview with Rachel Maddow on Wednesday night will probably go down as a lesson in what cable hosts are supposed to do, and what newbie politicians will now look to avoid at all costs (hopefully not to the detriment of her show). On today's MTP roundtable even Bob Woodward noted that it was a pragmatic decision on Paul's part.
But was it Rand's decision? Politico is reporting this morning that Paul canceled the appearance because "senior Republicans" told him to do so. Two senior Republicans in particular: Karl Rove and Sen. Mitch McConnell (R-KY).
Karl Rove, the former top adviser to George W Bush, called Paul's campaign manager this week and said the candidate was hurting himself with all the exposure, according to a source familiar with the conversation (In an email, Rove only said "no comment" when asked about the matter)

McConnell also talked with Paul about his high profile this week, although sources close to the leader insist that the candidate didn't need to be reminded that he was hurting himself with all the interviews

The senator and would-be senator talked privately following the rally inside the headquarters, according to GOP sources, and when Paul came out of the building to briefly greet supporters he avoided questions.

McConnell slipped out of the headquarters without facing reporters but sources close to the senator said he has made clear he's happy to help Paul in whatever fashion the nominee deems necessary – even if that means keeping his distance.
It's probably a good time to remind people that Paul merely won a closed Republican primary on Tuesday, and still has months of campaigning ahead before the November election. Meaning, among other things, it would seem people are using Tuesday's win more as bellwether of where the country may be headed politically over the summer than an individual political triumph in Kentucky. Meanwhile, Paul's absence did not stop the MTP folks from devoting the first 10 minutes of the show to covering Paul's roller-coaster ride this week, needless to say it probably encouraged it.
Have a tip we should know? [email protected]