So here's what the federal government's Amber Alert website looks like right now: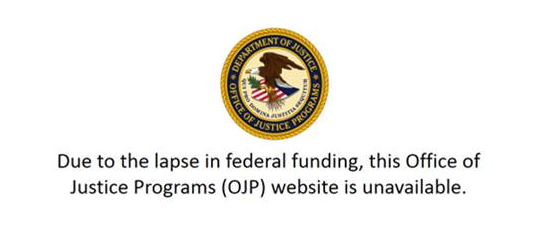 Wait for it…Here we go: "Obama Plays Politics With Lost Children" said Right Scoop. "Somebody, somewhere in the Obama White House or the Obama Justice Department decided to shut down the Amber Alerts, despite the system's long and stellar record of helping locate missing children," wrote the Washington Examiner. Drudge Report went full 96-pt font:

There are several problems with this, the primary one being that Amber Alerts function at the state and county levels, and so are unaffected by the government shutdown. Sure enough, the Amber Alert website for, say, New York state is functioning just fine. Meanwhile, the National Center for Missing and Exploited Children, which gathers all Amber Alert information, is up and running as well.
Second, the federal government's website is purely informational, meaning its temporary hibernation won't particularly effect the program's functionality, short of removing some info from the web.
Third, the federal site wasn't shuttered out of any sinister politics; as a Department of Justice spokesperson told the Huffington Post, many government websites were shelved as a precaution during the shutdown. "All the sites that had to go offline were put behind a firewall so that they couldn't be hacked while the IT people were on furlough," the DOJ said.
The DOJ confirmed that the Alerts were operational, despite the website's appearance.
UPDATE 11:22 a.m.: The site is back up. Here's DOJ spokesman Brian Fallon: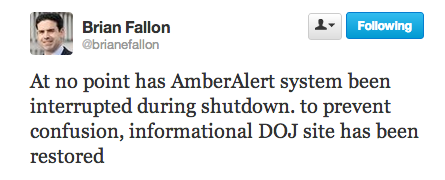 [h/t HuffPost]
[Image via screengrab]
——
>> Follow Evan McMurry (@evanmcmurry) on Twitter
Have a tip we should know? tips@mediaite.com