While the media narrative has largely focused on the gimmicky nature of both sides' behavior in the government shutdown, we often forget that the ongoing battle has paved the way for some gimmicky business promotions. This one takes the cake: Sex toy retailer Vibrators.com is offering free vibrators to furloughed government employees.

With the obvious joke being that these government employees now have too much time on their hands, Vibrators.com has swooped in with this giveaway: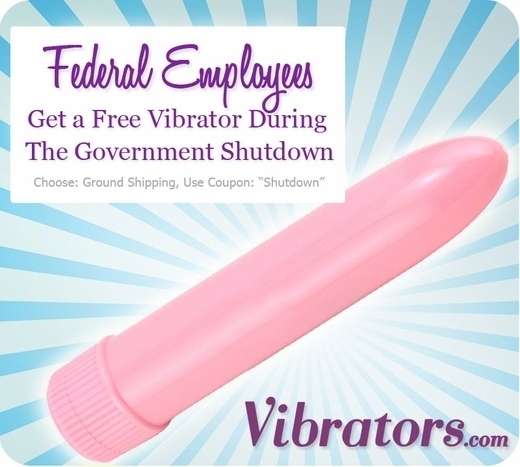 The item description reads:
Are you a federal employee that has been deemed non-essential? Do you have a little too much time on your hands and nothing to do? Is the recent government shutdown to blame?

Here at Vibrators.com we are committed to allowing our customers to find satisfaction. As vibrator enthusiasts, we want everyone to experience the pleasure that a nice vibrator can bring to partners and individuals. Besides, we know you have some free time, why not try something new?
According to the company, the giveaway has been quite successful. "As of Sunday night we have hit our quota for the evening. We will be allocating 200 more free vibes on Monday sometime around noon EST."
In addition, some person from Staten Island thought it judicious to try and order 6 (SIX!) of the free vibrators. "Please go away," the company wrote of this person. "We don't give vibrators to greedy people. Besides, what were you going to do with 6 identical vibrators? Don't answer that question.
[h/t HyperVocal]
— —
>> Follow Andrew Kirell (@AndrewKirell) on Twitter
Have a tip we should know? tips@mediaite.com