Twitter user @wiggsd (Energy tech enthusiast and mediocre golfer!) tweeted at the White House that "this WH correspondence briefing isn't nearly as entertaining as yesterday's". The White House apparently agreed with him enough to respond with the tweet seen to the left, in which whoever is controlling the official White House twitter concluded that fiscal policy can be dull before sharing the uplifting 1987 musical triumph that is Rick Astley's "Never Gonna Give You Up".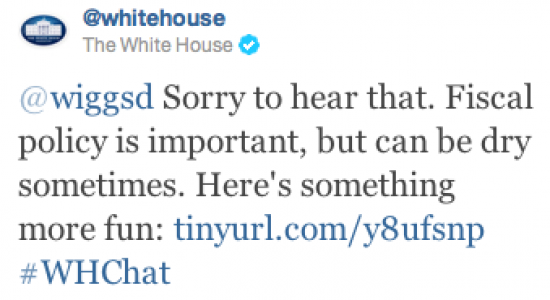 It's been more than three years since Youtube infamously changed every video on their front page to play "Never Gonna Give You Up" and "rickrolling", or tricking people into listening to Astley's hit, became an Internet phenomenon. So to call this tweet a little out of date is not too far off base. This leads me to three possible conclusions: either the powers that be really don't ever want us to give Rick up, they are just trying to be silly, or they are legitimately convinced that this is still an internet trend and are therefore 3-4 years behind on the trends. If my third point is correct, in 2015 the White House is going to be tweeting "OMG U GUYS PLANKING".
I urge you to view the video below not just because I don't want to be the only person humming this song on the subway tonight but because it is a matter of national urgency. Also, you're going to want to be aware of all the details of this pressing issue when every single conservative pundit tears apart the White House (and whoever manages its Twitter feed) for not taking our national crisis seriously enough.
Have a tip we should know? tips@mediaite.com