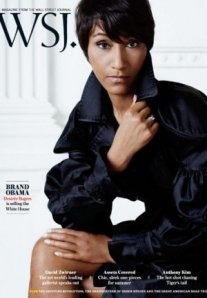 So maybe it wasn't just the Salahis that pushed Desiree Rogers out of her job as White House social secretary. Turns out it might actually been a penchant for putting on expensive dresses…oh and perhaps being a tad too frank with the press. This from Peter Baker at the NYT (also the author of this weekend's NYT Mag story on Rahm):
Desirée Rogers began to understand she was in trouble when David Axelrod summoned her to his office last spring to scold her.

Ms. Rogers had appeared in another glossy magazine, posing in a White House garden in a borrowed $3,495 silk pleated dress and $110,000 diamond earrings. But if the image was jarring in a time of recession, Mr. Axelrod was as bothered by the words and her discussion of "the Obama brand" and her role in promoting it, according to people informed about the conversation.

"The president is a person, not a product," he was said to tell her. "We shouldn't be referring to him as a brand."
Michael Calderone points out that it was during this interview with the WSJ mag that the brand remark came up. More juicy stuff:
The tension with her colleagues was building long before November when Michaele and Tareq Salahi, socialites from Virginia, managed to slip uninvited into the State Dinner for Prime Minister Manmohan Singh of India. Ms. Rogers's hip style, expensive clothing and presence at fashion shows at first were seen as symbolizing a new Camelot but ultimately struck many as tone deaf in a time of economic hardship and 10 percent unemployment.

The White House eventually clamped down on her public profile. She was ordered to stop attending splashy events and showing up in fancy clothes on magazine covers. When Michelle Obama learned one day that Ms. Rogers was on a train heading to New York to attend an MTV dinner, the first lady told her longtime friend to cancel, associates said.
Perhaps, not surprisingly, Rogers feels no one came to her defense. Read the whole piece here.
Have a tip we should know? [email protected]
---