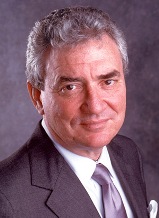 Former New York Times executive editor Howell Raines takes to the Washington Post op-ed page today to blast Fox News – and the rest of the media.
His main quibble boils down to the fact that Fox News isn't news at all, and everyone is afraid to call out Fox CEO Roger Ailes and the network as a whole.
Here's some from Raines:
Why has our profession, through its general silence — or only spasmodic protest — helped Fox legitimize a style of journalism that is dishonest in its intellectual process, untrustworthy in its conclusions and biased in its gestalt? The standard answer is economics, as represented by the collapse of print newspapers and of audience share at CBS, NBC and ABC. Some prominent print journalists are now cheering Rupert Murdoch, the head of News Corp. (which owns the Fox network) for his alleged commitment to print, as evidenced by his willingness to lose money on the New York Post and gamble the overall profitability of his company on the survival of the Wall Street Journal. This is like congratulating museums for preserving antique masterpieces while ignoring their predatory methods of collecting.
Of course, FNC had a response. Here's what a spokesperson told Mediaite:
We find it ironic that Howell is dispensing advice to other journalists after he nearly single handedly destroyed the journalistic credibility of the New York Times.
Related: Jayson Blair backstory.
Apparently Raines has had it out for Fox News and Ailes for a while. Newsbusters has more on the history between the two sides.
Of course, the battle between the New York Times and Fox News has had several incarnations, with top host Bill O'Reilly never shies away from the Gray Lady, and the Times now has someone in charge of keeping tabs on FNC (sort of).
Raines brings it all around with:
As for Fox News, lots of people who know better are keeping quiet about what to call it. Its news operation can, in fact, be called many things, but reporters of my generation, with memories and keyboards, dare not call it journalism.
This sort of across-the-board generalization about what 'Fox News is' makes journalistic presumptuousness even more prevalent than actual journalism.
—–
» Follow Steve Krakauer on Twitter
Have a tip we should know? [email protected]