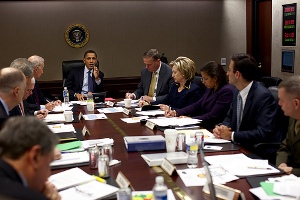 Pres. Barack Obama met with VP Joe Biden, Secretary of State Hillary Clinton and others last night for a final meeting on Afghanistan strategy before his big decision on troop deployment coming next Tuesday.
How do we know? Well if you follow the White House Flickr stream closely, you would have known about it late last night. Welcome to the new media presidency.
One image from the meeting last night, taken by official White House photographer Pete Souza, were released, with the caption: "President Barack Obama meets with his national security team to discuss Afghanistan in the Situation Room of the White House, Nov. 23, 2009."
This comes on the heels of the last released image on the Flickr feed, of another Afghanistan strategy session two weeks ago. Individuals are free to comment, and have. "impik2009," writes "Please, Mr. president, get out of this hell. It's insane to stay there. Bring the troops back home," while "manuscriptrep" disagrees: "Despite how the media portrays things, a lot of us Marines are are eager, willing, and ready to deploy. If that weren't the case, we'd be having some pretty obvious recruitment issues."
Of course, "paxmanphotography," sarcastically writes, "I'm sure the president is eager to look to the comment on FLICKR for advice on foreign policy."
Critics will argue that a Flickr image of a meeting does nothing to increase transparency, as Pres. Obama promised during the campaign. But what it does do is get the discussion going throughout social media like Twitter, as it did last night when the photo first got published. And all the cable news networks and morning shows discussed the meeting as well – with the addition of a very public element to help illustrate the story. It's not total transparency, but it's a step in the right direction.
Meanwhile, as for the meeting itself, one person very clearly in the room last night was budget director Peter Orszag, a point made by Politico's Ben Smith. Reports are this was the first time Orszag sat in the room for an Afghanistan strategy session, signaling "growing concerns on the Hill and in the White House about the cost of the war," according to Smith.
Side note: here's an image from Flickr of the President bowing and hiding.
This is ABC White House correspondent Jake Tapper's report on the meeting on Good Morning America this morning:


—–
» Follow Steve Krakauer on Twitter
Have a tip we should know? tips@mediaite.com