Disney, AMC Now the Latest to Threaten Georgia Over 'Religious Liberty' Bill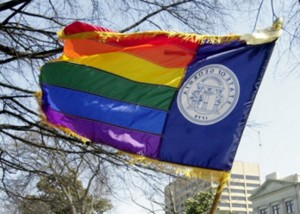 If Republican Georgia Governor Nathan Deal signs a controversial "religious liberty" bill into law, even the devil might elect not to go down to Georgia, if he's any kind of businessman. The Walt Disney Co. and its subsidiary movie studio, Marvel are now the latest in a group of over twenty businesses and entities to threaten boycotts of the state if Deal signs the "Free Exercise Protection Act" into law. From Variety:
The Walt Disney Co. and Marvel Studios indicated opposition to a Georgia religious liberty bill pending before Gov. Nathan Deal, saying that they will take their business elsewhere "should any legislation allowing discriminatory practices be signed into state law."

With generous tax incentives, Georgia has become a production hub, with Marvel currently shooting "Guardians of the Galaxy 2" at Pinewood Studios outside Atlanta. "Captain America: Civil War" shot there last summer.

"Disney and Marvel are inclusive companies, and although we have had great experiences filming in Georgia, we will plan to take our business elsewhere should any legislation allowing discriminatory practices be signed into state law," a Disney spokesman said on Wednesday.
The legislation, which has already passed the Georgia House and Senate, extends broad protections to individuals who wish to discriminate against gay wedding ceremonies, or anything else they find objectionable on religious grounds.
American Movie Classics, home of The Walking Dead, has also joined the NFL and a group of other companies in pressuring Deal not to sign the bill into law:
AMC Networks, which makes "The Walking Dead" in Georgia, issued a statement opposing the legislation.

"As a company, AMC Networks believes that discrimination of any kind is reprehensible," a company spokesman said. "We applaud Governor Deal's leadership in resisting a previous version of this divisive legislation and urge him to reject the current version as well."
Other companies threatening to pull out of Georgia over the bill include, Delta Air Lines, Google, Home Depot, IBM, Marriott, Microsoft, Nordstrom, Coca-Cola, Dow Chemical, UPS and Verizon.
This is an opinion piece. The views expressed in this article are those of just the author.