DNC Chairwoman Bashes GOP For Supporting Foreign Car Companies, Owns Foreign Car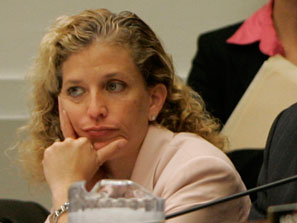 It's a general rule of thumb that whenever a politician says something negative about their opposition, they better not be guilty of the same thing, otherwise they would end up looking incredibly foolish.
The latest pol to suffer from this is Democratic National Committee Chairwoman Debbie Wasserman Schultz. Since she began her tenure as head of the DNC, Wasserman Schultz has gone on the offensive against the Republicans. She accused the GOP of "waging war on the unemployed" and slammed their budget proposal as a "path to poverty." But her latest attack on the opposition backfired in a major way.
Wasserman Schultz appeared at a breakfast for reporters and called out the Republican candidates for president who were very critical of the 2009 auto bailouts:
If it were up to the candidates for president on the Republican side, we would be driving foreign cars; they would have let the auto industry in America go down the tubes.
So we can infer that if Wasserman Schultz had her way, we would not be driving foreign cars. We would be driving automobiles made right here in America!
Well, what an error that would be. Luckily, her garage was on hand to clarify her position.
[A]ccording to Florida motor vehicle records, the Wasserman Schultz household owns a 2010 Infiniti FX35, a Japanese car whose parent company is Nissan, another Japanese company. The car appears to be hers, since its license plate includes her initials.
Obviously, it's not entirely fair to base her position on domestic car manufacturers by what she drives to work. Her voting record would be a more accurate way of measuring it. However, if you're going to throw stones, make sure your house is not made of glass first.
Rush Limbaugh's reaction below:
h/t The Hill
Have a tip we should know? tips@mediaite.com
Josh Feldman - Senior Editor