Do You Think America Is a Melting Pot? That's a Microaggression According to One School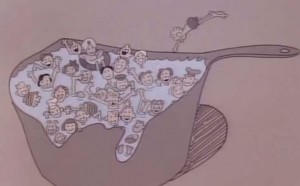 You can be relatively sure that no one in our grandparent's generation had ever heard of (nor particularly cared for) microaggressions, the social triggers of discomfort that run amok on PC-college campuses today with the frequency of fake IDs and drawstring backpacks. Microaggressions for the uninitiated can cover a wide range of slight offenses: sexual objectification, identity ambiguity, social etiquette, and now — at least according to Purdue University — the phrase "America is a melting pot."
At least that's according to a Management 301 business class at the Indiana school, where students were given a handout that details a wide range of microaggressions to avoid in day-to-day vernacular.
Other examples include "Where are you from?" "I believe the most qualified person should get the job," and "You speak good English."
According to the class handout, these microaggressions present issues because that are, "statements which assert that race or gender does not play a role in life successes."
According to The College Fix:
The information was presented to students in a lecture titled "Diversity Issues in the World of Work," a presentation created by Alvin Lee Jr., a human resources training specialist at Purdue University.

It also included eight photos of students of color holding signs with "microaggression" examples, such as "you don't act like a normal black person, ya know?" and "So what do you guys speak in Japan, Asian?"
Mediaite now presents you with this educational snippet from a 1977 episode of Schoolhouse Rock heavily saturated in microaggression violence: "The Great American Melting Pot." Can you believe this indecency was allowed to be on the air?
Someone find me a safe space.
—
J.D. Durkin (@jiveDurkey) is a columnist at Mediaite.
[image via screengrab]
Have a tip we should know? tips@mediaite.com