DOD Investigators Say Pentagon Non-Citizen Recruitment Program Poses 'Potential Security Risks'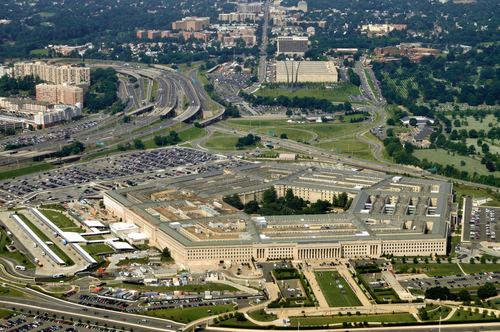 Fox News' James Rosen landed a stunning exclusive Tuesday with a report that the much heralded military program for foreign-born recruits has been "compromised" and may pose "security risks to the homeland."
The Military Accessions Vital to the National Interest (MAVNI) is a recruiting program which allows certain non-citizens to join the military and gain eligibility for U.S. citizenship without first having to go through the process of obtaining a green card. It's a path to citizenship that both sides of the volatile immigration debate have praised in the past.
But Rosen reports that a new Inspector General report along with three separate congressional committees are now raising serious red flags over palpable security risks within the program: (via Fox News)
"The lack of discipline in implementation of this program has created problems elsewhere," said Rep. Steve Russell, R-Okla., a retired Army officer who sits on the House Armed Services subcommittee on military personnel. It was Russell who first publicly sounded alarms. During the markup of the latest defense authorization bill, on June 28, Russell noted: "The program has been replete with problems, to include foreign infiltration – so much so that the Department of Defense is seeking to suspend the program due to those concerns."

Another lawmaker, whose committee does not enjoy jurisdiction over MAVNI – but whose panel could well come to focus on these problems, depending on their severity – told Fox News that the program had been "compromised" and that DOD officials have not presented answers to his questions about missing enrollees: "Where are they? What do they know? Where are they serving? What are their numbers?"

Contacted by Fox News, Army Lt. Col. Paul Haverstick, a Pentagon spokesman, said in a statement: "The Department of Defense is conducting a review of the MAVNI pilot program due to potential security risks associated with the program." Beyond that, however, Haverstick declined to comment, citing "pending litigation."
The "pending litigation" refers to a lawsuit filed in the early days of the Trump Administration alleging that seven naturalized citizens serving under the MAVNI program had their careers stalled because their security clearances were reevaluated under new rules put in place by Defense Secretary James Mattis.
In early July the Pentagon indicated that they were re-thinking the MAVNI program but did not indicate that there were security risks or any unaccounted for personnel as mentioned in the Fox News report.  At the time, former Pentagon and State Department spokesman (and now CNN analyst) Adm. John Kirby (ret.) wrote a column for CNN imploring the Pentagon to keep the program:
According to retired Lt. Colonel Margaret Stock, the program's founder, more than 10,000 people have been recruited under the program. They serve all over the world and have contributed to operations in Iraq, Afghanistan and Asia-Pacific hotspots. And their number includes a US Olympic silver medalist, a Secret Service officer, a nuclear energy fellow at MIT and the US Army's 2012 Soldier of the Year.

Some are medical specialists: thoracic surgeons, prosthodontists, orthopedic surgeons, and entomologists, to name a few.
Some speak critical languages, such as Mandarin Chinese, Russian, Arabic, Somali and Pashto, which remain vital to our ability to operate effectively around the world.

Should the military cancel MAVNI, it would deprive itself of this talent.
The Fox News package closes with military analyst Army Gen. Jack Keane (ret.) contextualizing the unnamed "security risks to the homeland" alluded to by Rosen's Pentagon sources.
"ISIS has always had desire to use migration as way to penetrate into countries," Keane warns while video images of ISIS terrorists are shown to viewers at home. "They have done that successfully in Europe because of open borders, mass immigration with no vetting. In the U.S., we haven't had any record of their penetration. And certainly if this program is compromised and there's a possibility of that kind of penetration, it's got to be thoroughly investigated."
The issue is sure to be discussed in Washington as part of the emotional and hyper-politicized arguments over American immigration policies and considering the military path to citizenship has generally been viewed as a "sacred cow" in the context of that debate, the Fox News report could very well be a game-changer.
This is an opinion piece. The views expressed in this article are those of just the author.