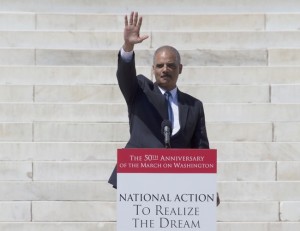 Whether it's #GamerGate, Ashley Judd's Kentucky Wildcats debacle or religious and national fundamentalism, social media has become a bastion for extremists of all colors, shapes and sizes. It's popularity is part of the reason why the U.S. Justice Department just awarded a large grant to a study that's taking a closer look at online extremism.
As the Washington Free Beacon reports, the "Justice Department's National Institute of Justice" chose to award $585,719 to the Michigan State University study that was "praised by Eric Holder, the former attorney general, earlier this year."
Considering the above examples and countless others, the use of social media for nefarious purposes by extremists of all kinds — whether groups or individuals — is a very important and necessary initiative. The knowledge learned could improve the authorities' ability to keep track of and, hopefully, curb or prevent harassment and violence.
Of course, because the study intends to track just one more "far-right" Internet forum than its targets in the "Islamic Extremist community," the conservative news site is crying foul:
The study draws more upon right-wing forums than upon the corners of the web inhabited by Islamist extremists.
But seriously, it's just one more. As the Washington Free Beacon notes immediately after the above quote, the study's documentation states its procedure includes "[collecting] posts made in four active forums used by members of the far-right and three from the Islamic Extremist community."
Does this veiled complaint intend to argue for egalitarianism?
[h/t Washington Free Beacon]
[Image via Shutterstock.com]
— —
>> Follow Andrew Husband (@AndrewHusband) on Twitter
Have a tip we should know? tips@mediaite.com