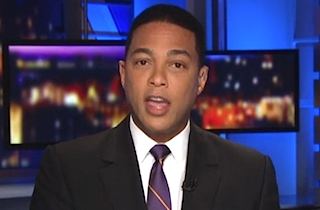 For his commentary segment on The Tom Joyner Show Thursday, CNN's Don Lemon drew some parallels between the "n-word" and the term "Redskins," which is currently at the center of the debate over Washington, D.C.'s NFL team name.
"An offensive word that many people hate and think should be banned. Others say not so fast, there's nothing wrong with using the word, especially when we're talking about a group of people we hold dear, like, even love," Lemon said Thursday. "Sounds like I'm talking about the 'n-word,' which has been debated, discussed and reported countless times, but I'm not. This time it's the dreaded 'r-word,' Redskins, as in the Washington football team."
Lemon referred to the U.S. Patent Office canceling of the "Redskins" trademark as a "small victory" for those who find the name offensive "because it doesn't mean the team has to relinquish the name; the owner has vowed he wouldn't."
Like he did during his "n-word" special on CNN last summer, Lemon examined the etymology of the term "redskins." As the Oxford Dictionary says, the term"lost its neutral, accurate descriptive sense and became a term of disparagement."
"Either way you cut it, no matter the origin a word, if over time it has become a slur, a dig or an insult, should you use it, even if it is the name of your favorite team?" Lemon asked. "My personal opinion is no, but you decide. At the very least though, before you defend using it, you should probably know where it came from and what it means."
Comedian Kevin Hart, who was on the show with Lemon, quickly tried to lighten the mood by saying he has never used the term "redskin" against anyone, and doubted that anyone has been called that word in the same way that the "n-word" has been used against African-Americans. He did not seem to think Lemon's equation of the two terms was fair.
Listen to audio below, via BlackAmericaWeb:
[Photo via screengrab]
— —
>> Follow Matt Wilstein (@TheMattWilstein) on Twitter
Have a tip we should know? [email protected]