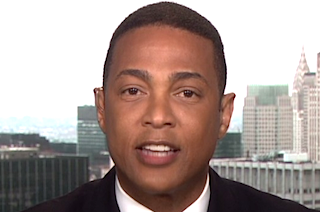 The story of a supposedly "racist" email sent by Atlanta Hawks owner Bruce Levenson that came to light this week has been largely overshadowed by video released Monday of Baltimore Ravens running back Ray Rice beating his then-fiancée in an elevator. During his weekly remarks on the Tom Joyner Morning Show, CNN's Don Lemon condemned Rice before offering up a strong defense of Levenson.
"There is no question about what should or should have happened in the case of the NFL and Ray Rice. He should be fired from the Baltimore Ravens," Lemon said Tuesday. "But, when it comes to the NBA and the Hawks, there is no real consensus about whether an email written by the team's owner Bruce Levenson is racist and warrants him selling his controlling interest in the team."
As Lemon explained, the email in question concerned Levenson efforts to get more white fans to attends Atlanta Hawks games. "Let me be perfectly clear," Lemon said. "If this email is all there is to this story, I don't see the controversy." He compared Levenson's desire to attract 35-55 white men to the games to TV executives trying to get the prime 18-49 demo to watch their shows.
RELATED: Kareem Abdul-Jabbar Defends Hawks Owner: He's 'No Donald Sterling'
When Levenson wrote that most of the people who attended the games, along with the clientele of the bars and restaurants nearby were mostly black, Lemon said, "he was stating the truth​."
"The email was not racist," Lemon said, after quoting the most problematic section at length. "There is no Donald Sterling-esque smoking gun here. He didn't say he wanted fewer black people. He said he wanted more people of the desired demographic of his business, white men between the ages of 35 to 55-years old."
"In my estimation, his message to his colleagues was a smart one; by constantly playing their strong hand or preaching to the choir, they were in essence fishing in an empty pond," Lemon continued. His words may have been inartful, but the man was simply trying to run a business and not lose money. He was strategizing in an email on how to reach out to a coveted demographic to put more butts in the seats. It is just that simple."
The fact that Levenson himself handed over the email to the NBA has indicated to some that he actually wanted to create a controversy that would facilitate him selling his stake in the team. It has not been made clear whether the NBA encouraged or even forced Levenson to sell his stake or whether he volunteered to do so.
Listen to audio below, via BlackAmericaWeb:
[Photo via screengrab]
— —
>> Follow Matt Wilstein (@TheMattWilstein) on Twitter
Have a tip we should know? tips@mediaite.com