Donald Trump Convincingly Declares Rep. Weiner Is A 'Psycho' With A 'Death Wish'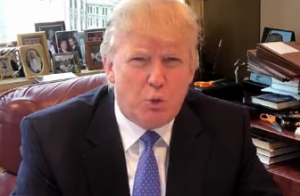 Given that many in the media were quick to dismiss Donald Trump as a joke when he was flirting with the idea of running for President, it might not be too surprising that Trump couldn't resist the urge to now comment on someone who has become an actual joke: Congressman Anthony Weiner. Although Trump's commentary here might seem like a cruel attempt to kick someone while they are down, Trump's unique and lasting appeal is his willingness to publicly make an argument that many often just think to themselves. In this case, the idea is that Weiner is not only foolish for having inappropriate conversations with various women through social media, but seriously mentally deranged to think that as recently as a few days ago he still could lie to everyone and get away with it.
Trump unleashed a verbal assault on Weiner:
"I know him very well. He called me all the time looking for campaign contributions and would never stop. . . . The fact is Anthony Weiner is a bad guy. He's a psycho. And when this came out I was not surprised at all. . . . The fact is he lied, he cheated, he was as bad as I've ever seen."
The only thing Trump did find surprising was "I thought that his career was so important to him," but instead Trump concludes "he just had a death wish."
It's truly shocking that Weiner, the newly married political rising star with national recognition and beloved by prominent Democrats and many in the media, still wasn't satisfied in life. Not to get too psychological here, but Trump is right. Anyone who has achieved so much success in life, who still wasn't fulfilled and who engages in such self-destructive behavior needs a lot of help. Yet what is even more shocking (to me at least) is how anyone can honestly argue with a straight face that Weiner should still have a political future.
Maybe Trump's bravado is inspiring this next statement, but here we go. Given the fact that Weiner so convincingly lied in many interviews just a few short days ago, let's be clear, Weiner should never ever be trusted on any issue related to anything ever again. With such credibility beyond repair, how could he possibly continue in a profession, that at least until recently and that only occasionally is disgraced by the individuals holding the office, was supposed to have a reputation of being the most respected and honorable career for which most Americans could only dream to aspire?
Trump accurately concludes Weiner "should never ever be allowed to run for office again." If Weiner continues to serve in Congress, and the Democratic party enables him to, then we know all know who should justifiably be dismissed as a "joke" in the future (and it ain't The Trumpster).
Watch the clip "From the Desk of Donald Trump":

Have a tip we should know? tips@mediaite.com