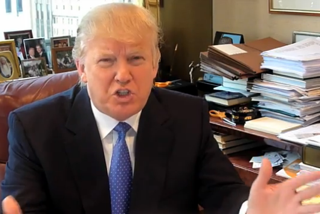 Donald Trump has only room on his schedule for one and one political goal only: to defeat Barack Obama. This puts him somewhat at odds with the nation, which is a bit more worried about not defaulting right now, as, in Trump's own words, a bad resolution to the current debt crisis would "guarantee" President Obama an election loss.
"All of the pressure on the debt ceiling is on Obama," Trump warned in the latest installment of his YouTube series, "not on the Republicans." While many believe it is Congress that has more to lose from the debt wars, Trump argues that "nobody's going to remember Boehner or anybody else, they're only going to remember Obama," and that the threat of a bad legacy is strong enough to keep the President in check and push him to compromise.
That said, Trump opposes almost all compromise. In fact, there is only one deal he would want to see Republicans take: "the unbelievable, great deal" that would involve repealing Obamacare, which, as far as anyone knows, is not on the table for anyone involved in the debt talks. If they can't get "the phenomenal deal, including getting rid of Obamacare, they should just tap it along," he argues, because in the worst case scenario, the country might be wounded significantly, but "there's no way that Obama could be reelected, and that would be a great thing for the country."
He then turns second person on the Republicans, fulfilling a bit of a Mr. Miyagi role to them as they face the final battle: "don't fold," he advises, "don't g ive up." He reiterates that "it's impossible for him to get reelected if this isn't solved, so don't be stupid, don't be foolish." The foolish behavior, to Trump, would be to reach a compromise, as "it's impossible for him to get reelected if this isn't solved." Instead of solving the debt crisis, Trump inexplicably suggests, Republicans should resurrect the entire hair-graying, tantrum-inducing discussion yet again, "around June or July of next year, and I guarantee you one thing: Obama will not be President for long." Which leaves only one question unanswered: will Trump be the one to take the reins from Obama in 2012?
Trump's advice to the GOP below:
[h/t]
Have a tip we should know? tips@mediaite.com