Donald Trump Jr. Explains That White Supremacist Radio Interview Was an Accident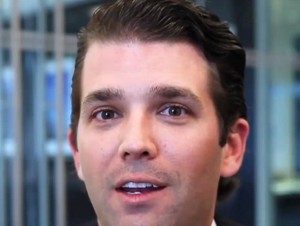 Donald Trump Jr., son of embattled Republican presidential frontrunner Donald Trump, is doing damage control over an interview he gave to James Edwards, the host of white supremacist radio show The Political Cesspool.  In a week when the elder Trump is contending with fallout from his treatment of Klan legend David Duke's endorsement, Trump the Younger says the 20-minute interview he gave Edwards was an accident:
Trump Jr. said that the campaign had worked with an outside booking agency to line up 35 radio interviews for him to do via telephone from his Manhattan office in Trump Tower.

One of those interviews was with Sam Bushman, who hosts a nationally syndicated conservative radio show. Trump Jr. said that unbeknownst to him, Bushman brought another person with him who also asked questions. It turned out to be Edwards, the host of a program titled "Political Cesspool."
"I never knew he was in the room so he didn't interview me. He did apparently ask a question or two though. I had no idea," Trump said.
Trump's son, meanwhile, says the criticism he has received over his appearance is an effort by those in the media to continue a "false narrative that my father is racist."

…"I didn't even know I was on with anyone other than Sam as it was radio and I only was scheduled with Sam per the call sheet," Trump Jr. said. "I certainly had no idea of James' background, and if I had I would have refused."

"The way the media is spinning it is as though I voluntarily spoke with this guy and I knew his background, rather than I was essentially duped by him being in the room and asking an inane question where I clearly could not have ever known what or whom I was talking to. It's very unfair, and typical of the way much of the media has handled us," Trump Jr. said.
It was no accident, however, that the Trump campaign issued credential to Edwards and his radio show for a Trump rally on Saturday night, hours before Trump's controversial refusal to disavow David Duke's endorsement.
This is an opinion piece. The views expressed in this article are those of just the author.