Donald Trump Says Attorney Gloria Allred 'Would Be Very, Very Impressed With [His Penis]'
Trump Says Gloria Allred 'Would Be Very, Very Impressed With [His Penis]'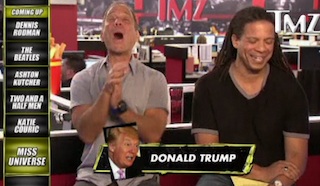 We here at Mediaite get to hear a lot of Donald Trump. He's constantly calling in to shows we cover, like Fox & Friends and The Five. However, did you know that he also calls in to shows we don't normally cover? Yeah. Because we weren't watching TMZ Live yesterday, we missed an amazing Trump moment when he called in to the show and started talking about how impressed Gloria Allred would be if she got a look at his junk.
You know what this means. Yes, we're going to keep not watching TMZ Live.
So, why on earth was this a thing that happened? Well, last month, Jenna Talackova, a finalist for the Miss Universe Canada competition, was disqualified when it was found that she was not born as a woman. The disqualification drew headlines, especially after Talackova hired Allred as representation, and this week the decision was reversed. Trump has been making the rounds today, mocking Allred, claiming that she's "easy to beat" in court.
So how did this fascinating conversation about gender and contest rules become a much, much, much, much less fascinating conversation about Donald Trump's penis? Well, during a recent press conference, Allred argued that Talackova had never asked "Mr. Trump to prove he's a naturally born man, or see photos of his birth, or to view his anatomy" because it didn't matter to her. This inspired Trump to tell the TMZ gang just how "very, very impressed" Allred would be if she did view his anatomy.
I don't know, Donald. You're not hiding a baseball bat, are you?
Of course, this does explain one thing; why Mitt Romney appeared so uncomfortable during that endorsement press conference with Trump. The poor guy was just jealous.
Watch Trump's comments and test your gag reflex in the clip from TMZ below:
(h/t Think Progress)
Have a tip we should know? tips@mediaite.com