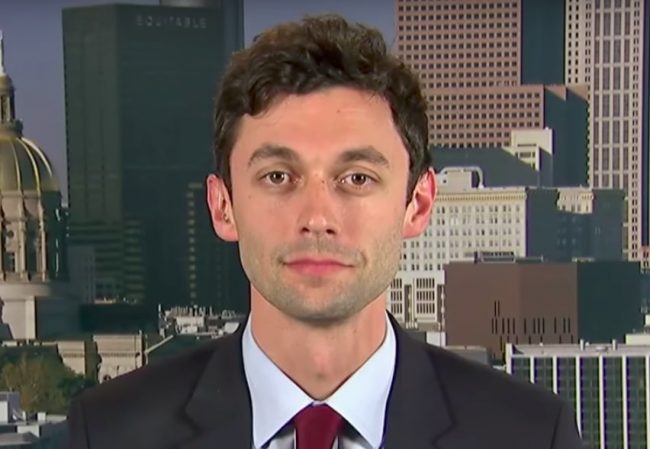 Last night's special election in Georgia's Sixth Congressional District did not turn out the way Democrats hoped. With tens of millions of dollars behind his campaign, fresh-faced, 30-year-old Jon Ossoff was unable to flip the district's House seat blue for the first time in decades, losing to Republican Karen Handel by nearly four points in the runoff. (Ossoff had come up just short of 50% in the first round in April, necessitating the runoff.)
Considering the vast amounts of cash spent on Ossoff, and Democrats desperate for a win in special elections to prove they have momentum ahead of the 2018 midterms, it was expected that as soon as the race was called for Handel, there'd be quite a bit of analysis and reflection on what caused the defeat. And, with that, we'd also get knee-jerk reactions from some folks looking for an easy-to-grasp narrative.
On Twitter, we saw some instances of those on the left hitting the Democrats and Ossoff for essentially running against Trump rather than providing any real ideas.
Will #Ossoff's loss FINALLY show establishment they have to run FOR ideas (single payer, free college, tax hikes) rather than Trump=bad? NAH

— Jordan (@JordanChariton) June 21, 2017
You can't run just vs. Trump, but Democrats also need to grasp that the real GOP victory is making people feel none of this shit matters.

— Jamil Smith (@JamilSmith) June 21, 2017
Fear doesn't mobilize Dems. Ideas do. That's what the pros say.

— Nomiki Konst (@NomikiKonst) June 21, 2017
But it wasn't just left to hot takes on Twitter immediately following the race being called. Nope. Some folks actually took to TV to deliver this message.
The View's Joy Behar said that using Trump as "basis for your campaign" doesn't seem to be working out for Democrats, citing Ossoff as a prime example. Morning Joe regular Mike Barnicle, referencing the race, stated that Democrats need to "figure out what to run for rather that run against Donald Trump." And the New York Times' Jeremy Peters stated that Democrats "have not figured out" that "it is not just enough to be against Trump" and that this "did not work as a motivating factor for Ossoff voters."
And commentators and reporters weren't the only ones tied to this narrative. You had Democratic lawmakers themselves tossing this out as the reason for Ossoff's loss.
#Ossof Race better be a wake up call for Democrats – business as usual isn't working. Time to stop rehashing 2016 and talk about the future.

— Seth Moulton (@sethmoulton) June 21, 2017
And the New York Times spoke to numerous Democrats — including Moulton — after the election who embraced the message that you can't just run against Trump.
But here's the thing — Ossoff didn't make the election about the president. Democrats in the district didn't do that either. The campaign wasn't running anti-Trump ads and Ossoff instead went for a tone of civility in the race, purposely going out of his way to not mention the president on the campaign trail.
While he was obviously getting millions of out-of-state dollars due to Democrats nationally making this race a referendum on the president and hoping to make inroads before next year's election, Ossoff stayed mostly out of the fray, even as Trump himself devoted mean tweets to the candidate. Meanwhile, Handel linked Ossoff to House Minority Leader Nancy Pelosi, and Republican and conservative groups even connected him to Kathy Griffin and Steve Scalise's shooting.
Rs ran two #GA06 ads linking Ossoff to Kathy Griffin, who tweeted about him once.

Ds ran zero ads linking Handel to Trump.

— Dave Weigel (@daveweigel) June 21, 2017
Now, sure, there can be a real question about the message Ossoff delivered during the race. Perhaps he should have been more of a fighter. Maybe he should have focused more intently on issues that suburban Atlanta voters were most passionate about.
But it is my guess that many of those complaining about his campaign message had no idea what he was actually saying these past few months. They just knew the lazy narrative they should latch onto because it has now been ingrained following months of Trump's presidency and Democrats coming close but not pulling out special elections in Republican districts.
Do better.
[image via screengrab]
—
Follow Justin Baragona on Twitter: @justinbaragona
This is an opinion piece. The views expressed in this article are those of just the author.