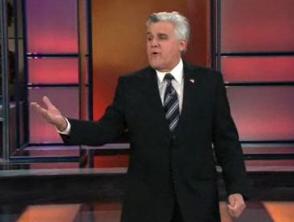 Most of the defense we've seen in the press in NBC's late night chaos during the past two weeks is from Team Conan, and as the Conan O'Brien and Jay Leno fate is sealed (likely today), we're hearing from Team Leno today.
So Team Leno wants to convey it's not Jay's fault – but is it our fault?
The Associated Press' Lynn Elber reports what some Leno staffers are speaking out to say today: "their boss isn't the bad guy in NBC's late-night upheaval."
"The network asked him to make a compromise," said Jack Coen, a producer who has worked with Leno for 14 years. "He's being a good soldier, and he's being trashed."
Maybe he's just "being a good soldier," but as clips, like his on-air handover to Conan in 2004, keep circulating around the web and in the media, Leno's reputation continues to take a hit. And even as several staffers come to his defense, Elber closes by acknowledging what may be the next storyline when The Tonight Show with Jay Leno returns in March. "If Leno emerges with 'Tonight' but with his image scarred, it could have ramifications for him and his show," she writes.
The New York Times' David Carr writes about the Tonight Show mess in relation to new media. And suggests maybe Conan's (and Jay's) lower ratings are, in part, our fault:
But as things stand now, by the end of the day, we all have been bombarded by news and commentary from all manner of media, making "The Tonight Show" and its ilk increasingly seem beside the point, no matter who is delivering the monologue…
Bedtime used to mean some quality time with your late-night host of choice, but the bedroom has gotten pretty crowded. The nightstand is groaning with options, including Netflix, laptops and a remote that can pull up favored prime-time programs on the DVR. Let me see, that episode of "House" I missed or Conan O'Brien?
In this sense, it doesn't really matter who ends up hosting The Tonight Show. And while O'Brien feels he wants to protect the franchise, the franchise may be forever changed already due to the new way viewers consume news and media.
• Earlier: "Jay Leno Would Like You To Know This Is Not His Fault"
—–
» Follow Steve Krakauer on Twitter
Have a tip we should know? tips@mediaite.com