Don't Get Your 'Panties In A Wad': Erick Erickson Defends Himself Against 'Feminists' And 'Lefties'
Don't Get Your 'Panties In A Wad': Erickson Defends Himself Against 'Feminists' And 'Lefties'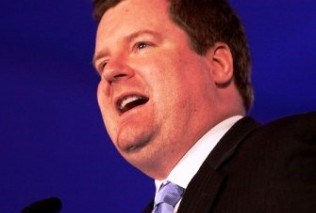 Fox News contributor Erick Erickson must be feeling the heat today over comments his made last night on Fox Business Network as he took to his Red State blog this afternoon to defend himself against the "feminist and emo lefties" who "have their panties in a wad over my statements."
The conservative commentator was reacting to a recent Pew study that claims mothers are now the primary source of income in 40 percent of American households, when he went off on a tangent, suggesting it's "anti-science" for liberals to reject the idea that men should take on the "dominant" role in the household.
In his defiant response today, titled "The Truth May Hurt, But Is Not Mean," Erickson reiterated his point that "more women being the primary or sole breadwinners in families is harmful to raising children." He also used the opportunity to express his disapproval of gay parents, writing:
"In modern society we are not supposed to say such things about child rearing and families. In modern society we are not supposed to point out that children in a two-parent heterosexual nuclear household have a better chance at long term success in life than others. In modern society, we are supposed to applaud feminists who teach women they can have it all — that there is no gender identifying role and women can fulfill the role of husbands and fathers just as men do.

This does not mean the two-parent, heterosexual nuclear household will always work out for the best. But it does mean children in that environment will more often than not be more successful than children of single parents or gay parents."
Erickson warned against "political correct outrage" getting in the way of the "truth": "Kids most likely will do best in households where they have a mom at home nurturing them while dad is out bringing home the bacon."
To back up his argument, Erickson cites the figures from the survey that state "three-fourths of those surveyed say these mothers make raising children harder, and half worry that it's bad for marriages." While that shows that many people share the same concerns that he does, it does nothing to prove the inherent benefit of having a mother at home and a father at work.
Watch Erickson's appearance on FBN, in case you missed it:
—
>> Follow Matt Wilstein (@TheMattWilstein) on Twitter
Have a tip we should know? tips@mediaite.com