'Don't Let Donald Trump Get Into Your Head': Scarborough Sends Message to His Media Critics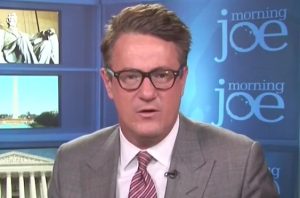 Following the kerfuffle between him, Sopan Deb, Maggie Haberman and others over being spotted at Mar-a-Lago on New Year's Eve, MSNBC's Joe Scarborough spoke to CNN Money's Dylan Byers about the whole situation in an interview that was published in its entirety this afternoon.
As you may recall, Scarborough took to Twitter to go after Deb following the reporter's tweet claiming the Morning Joe host partied with Trump on NYE. This turned into a whole Twitter war that spilled over to this morning's MJ broadcast and took up parts of two days. Highlights included Scarborough labeling Deb's tweets as "fake news" and Haberman posting a photo of Joe and Mika Brzezinski at the party speaking with Trump.
In the interview with Byers, which Scarborough only agreed to if the entire transcript was published, the MSNBC personality claimed there was a form of liberal bias at play over the criticism he's faced over his supposed coziness to Trump.
After complaining about the bias and claiming that colleague Chuck Todd's tweet about the media industry wasn't about him, Scarborough then had this message for his critics:
Well, I don't really — well, you know what, actually, I do have a message. And it's something that we talked about this morning on the show, and we've been talking about for some time. That, don't let Donald Trump get into your head. Don't let him change the basic rules of journalism. You still pick up the phone, you still ask questions. Facts still matter. You still pursue stories that matter to people across the country instead of venting or trying to write the most snide tweet or the most snide article.
At a certain point in the interview, it appeared that Byers took umbrage with Scarborough comparing himself to well-known journalists when discussing his relationships with politicians. When Byers said "you are obviously a pundit," the Morning Joe star interrupted him and said he's a "news analyst."
Much of the rest of the conversation centered on Scarborough justifying his friendships with Trump and other politicians while name-checking journalists like Ben Bradlee and Bob Woodward, and Byers wondering why other reporters aren't found in compromising situations with Trump like Joe and Mika have.
[image via screengrab]
–
Follow Justin Baragona on Twitter: @justinbaragona
Have a tip we should know? tips@mediaite.com