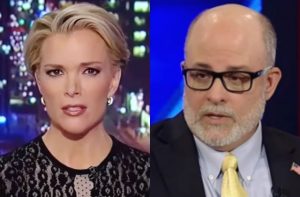 Conservative radio host Mark Levin had some pretty choice words yesterday for Megyn Kelly over her quickly-famous interview with Newt Gingrich. Levin cried, "Megyn Kelly is out of control! Megyn Kelly pretends to represent women."
He criticized her for being the one to 'set a fuse" on all this talk of sex on the campaign trail. Remember, she asked Trump that question at the first primary debate about his past misogynistic remarks.
And Levin was appalled by what she did during the Gingrich interview:
"She is auditioning, in my opinion, for a bigger forum. That's not exactly a state secret… Fine. But please don't pretend you're a journalist. And if this is the future of Fox, then Fox will be dead. Because this kind of National Enquirer stuff dressed up as journalism doesn't fly."
(No, Levin did not say anything about Sean Hannity literally dredging up National Enquirer stuff the night before.)
Levin ran through clips of Kelly facing off with Gingrich, making it clear that while he's no fan of Gingrich, Kelly was clearly engaging in the fight for "self-aggrandizement" and "self-promotion."
He took offense, just as Gingrich did, at Kelly using the phrase "sexual predator" in the same sentence as "Donald Trump." As Kelly made very clear at the time, she was not expressing her opinion, merely stating that this is an allegation that viewers deserve to hear both sides of the story on.
And in addition to everything above, Levin repeatedly invoked Kelly's appearance on Howard Stern's show a few years ago to accuse her of hypocrisy on her feminism. Because since Kelly openly talked about her body and sex with her husband to Stern, Levin said, "she's not some leader of some feminist movement. She's hardly in a position to be representing anybody."
Listen above, via The Mark Levin Show.
[h/t The Blaze]
[image via screengrab]
— —
Follow Josh Feldman on Twitter: @feldmaniac
Have a tip we should know? tips@mediaite.com
Josh Feldman - Senior Editor