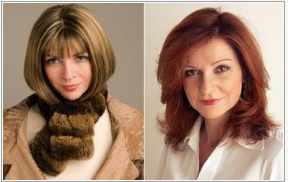 Three years ago Maureen Dowd wrote a much-talked-about, much-passed-around column defending Anna Wintour and Meryl Streep's portrayal of her in the just-released Devil Wears Prada. The column was sharp, incisive, full of wit, and relevant. In short: Dowd at her best. In short, everything this past Sunday's column about Wintour's portrayal in the upcoming documentary was not. A side-by-side reading provides a great snapshot of the slow disintegration of Dowd's relevance. Anna Wintour may still be a "sacred monster" in Dowd's eyes, but as is wont to be the case more often than not these last few years, Dowd has nothing more to add to the conversation.
Sympathy for the Devil (June 28, 2006):
So, given my relatively angelic self-image, I was surprised, at a screening of "The Devil Wears Prada," to find myself sympathizing with the devil — Meryl Streep's Miranda Priestly, the Anna Wintoury editrix of a top fashion magazine who is described as "a notorious sadist, and not in the good way."

Is it so wrong of Miranda to expect her assistant, Andy Sachs (played by Anne Hathaway), to know how to spell Gabbana, reach Donatella and ban freesia? Is it so bad to want help getting a warm rhubarb compote for Michael Kors? Or to have an assistant who knows what an eyelash curler is?

*

Whether Anna and Miranda are sacred monsters, at least they are themselves. It's more admirable to be the beast to which the parasite attaches itself than to be the parasite.
The Last Empress (August 23, 2009):
So the question invariably arises: Behind those bangs and dark glasses, is Anna human? Or did she tie Hermès scarves together and make a daring escape from District 9 in a getaway car driven by Oscar de la Renta?

On CBS's "Early Show" on Thursday, Talley said it was a misconception that "she's an ice floe or an iceberg and that she has no human flesh or bones." Tom Florio, the publisher of Vogue, concedes in the documentary that "she's not warm and friendly."

*

David Letterman will probe Monday night to find out if Wintour is as frigid as we think. But there's no need for her to drop the Cruella de Vil guise. Moviegoers want to see a brittle Anna belittle, Simon Cowell-style. We enjoy the editrix as dominatrix.

She's a sacred monster, an embodiment of the highest standard of style, and we don't expect our monsters to be nice.
Have a tip we should know? tips@mediaite.com