Drudge Reported Fake Video of Black Men Vandalizing 'Trump Car' As Actual News
A video of young black men apparently vandalizing a car with Trump campaign stickers was widely reported on conservative media as real news — even though it was revealed to be a staged event.
"I just want to apologize to everyone for my last video being fake," impresario of YouTube pranks Joey Salads said in his apology video posted online Wednesday. "There's no excuse for it. I know it made the black community look bad."
His original video appeared online Monday, but one day later Ethan Klein at h3h3Productions debunked Salads' "social experiment" in a widely shared video, which prompted Salads to take it down. Thanks in large part to footage shot by Twitter user @txorres of Salads and the actors portraying the vandals hanging out together on the set, the video was revealed to be a staged set-up.
Before it was debunked and deleted, however, the tape was widely shared on conservative media outlets, including Drudge Report, Jim Hoft's Gateway Pundit, WND (since deleted), and Western Journalism. RealClearPolitics also fell for it.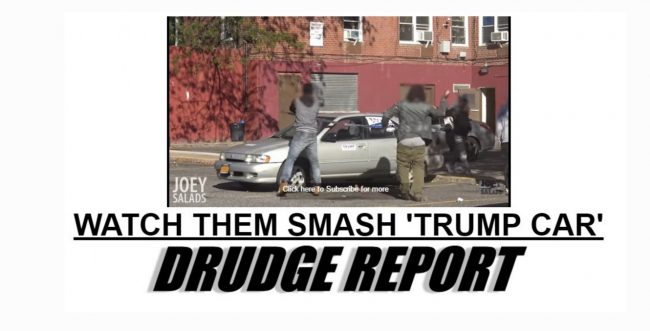 This is the second time in one week that Drudge and Hoft have fallen for a prank and reported it as real news. After Twitter user @randydgub tweeted a joke in which he pretended to be an Ohio postal worker destroying absentee ballots from Trump voters, his "confession" was widely disseminated as truth by many, including Rush Limbaugh. (Hoft's disgruntled correction to his original story reads: "So this Twitter user now says his tweet was a joke. Because voter fraud is funny? I've seen people get banned from Twitter for less than this.")
Salads said in his apology that he could have left the video online and made thousands of dollars off it and that he hoped his decision to delete it was evidence of his contrition. "I'm sorry and I'm gonna do everything that I can to fix this," he said. "I will never fake a video ever again. That's for sure."
—
Sam Reisman (@thericeman) is a staff editor at Mediaite.
Have a tip we should know? tips@mediaite.com