Duggar Father-in-Law Speaks Out to Defend Family: 'Did Not Turn a Blind Eye'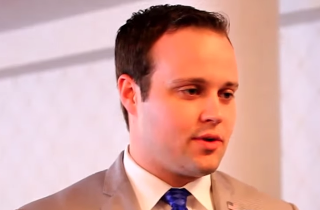 The father-in-law of one of Josh Duggar's sisters wrote an essay for his website in defense of how the family handled the molestation Duggar publicly confessed to committing when he was a teenager.
Michael Seewald, the father-in-law of Jessa Duggar, wrote a lengthy essay decrying the media feeding frenzy and speaking quite a lot about sin. He says he pains him to see the Duggars reliving this "nightmare," but felt compelled to speak out in defense of family.
Seewald says that far from covering it up or turning a blind eye, Duggar's parents "earnestly sought help from the church, counselors, and eventually the police," in an attempt to "confront the sin." And as for why they didn't make this public knowledge, Seewald asks, "would you be willing to publicize your own darkest moments?"
He addresses the religion issue and whether the more repressed environment the Duggars grew up in led to such horrible things:
The stupidity of some people is mind boggling. Fan the flames of youthful lust and you end up with what we have: unprecedented numbers of unwed mothers, millions of abortions, rampant STDs, and the unraveling of the fabric of our whole society. Josh didn't sin because he was repressed, he sinned because like all of us he is a sinner.
He also affirms that the Seewald family "stands with the Duggar family in solidarity" during this time. You can read his full post here.
[h/t TIME]
[image via screengrab]
— —
Follow Josh Feldman on Twitter: @feldmaniac
Have a tip we should know? tips@mediaite.com
Josh Feldman - Senior Editor