Edward Snowden: David Petraeus Shared Info 'Far More Highly Classified Than I Ever Did'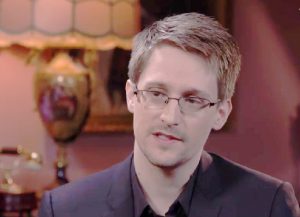 In an interview with Yahoo News' Katie Couric, Edward Snowden explained that those who are well-connected to the government can get away with mishandling or sharing highly classified information without fear of serious punishment.
Snowden, who is currently in exile in Russia as he is a fugitive over his leaking of sensitive documents, spoke to Couric in Moscow. She asked him what a plea deal would look like for his regarding his situation.
"You know, I'm not actually sure because I'm not a lawyer," Snowden answered. "But the idea here is that most people who are involved in government or intelligence community are involved in some sort of case where the government goes 'This person was acting in good faith. They were trying to do right by the American people.' But they did break the law. No charges were ever brought."
He then mentioned Gen. David Petraeus as perhaps the "best known case." Snowden stated that Petraeus shared information "that was far more highly classified than I ever did with journalists."
Sat down w @Snowden in Moscow. He said Petraeus disclosed info that was "far more highly classified than I ever did" https://t.co/JGviqrz8ZV pic.twitter.com/lnY4TlxPmv

— Katie Couric (@katiecouric) December 4, 2016
After highlighting that Petraeus didn't share this info with the public or media but instead his lover and biographer, he noted that the current Secretary of State candidate was charged with a misdemeanor and never served a day in jail.
"We have a two-tiered system of justice in the United States where people who are either well-connected to government or they have access to an incredible amount of resources, get very light punishments," Snowden concluded.
Watch the clip above, via Yahoo News.
[image via screengrab]
–
Follow Justin Baragona on Twitter: @justinbaragona
Have a tip we should know? tips@mediaite.com