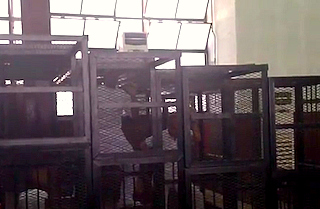 As Egypt hands down seven-year sentences to Al Jazeera journalists kept in cages and death sentences to scores of supposed Muslim Brotherhood supporters, some lawmakers are considering reducing the more than $1 billion in military aid the U.S. sends the country.
"Withholding military aid to the Egyptian regime has let its leaders know that repressive actions and abuses of human rights and the rule of law are deeply concerning to the American people, and to many in Congress," said Senator Patrick Leahy (D-VT) in a statement following a Senate committee's passage of a bill to shrink aid to the country by 30%.
RELATED: Egyptian Broadcaster Cited for 'Inappropriate' Bar Strap
Meanwhile, Representative Adam Schiff (D-CA) plans to reintroduce a similar amendment in the House. "As long as we are giving Egyptians a blank check, we can expect our democratic ideals to be given no more than lip service," he told Reuters.
The U.S. has sent Egypt $1.5 billion annually in aid, mostly military, a routine disrupted after the army deposed former Egpytian President Mohamed Morsi last summer. Since then, the government has declared the Muslim Brotherhood a terrorist organization and used the designation to crack down on political opponents and Al Jazeera employees, whom they accuse of siding with the Brotherhood to sow political unrest.
Secretary of State John Kerry recently freed up about $650 million in aid to Egypt to re-certify its treaty with Israel.
[h/t Reuters]
[Image of jailed Al Jazeera employees via screengrab]
——
>> Follow Evan McMurry (@evanmcmurry) on Twitter
Have a tip we should know? tips@mediaite.com