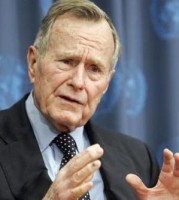 Yesterday President George H.W. Bush expressed distaste with the lack of civility and "intellectual honesty" running through criticism of President Obama during a radio interview with CBS News. Then again, he also jumped headlong into the White House-Fox News scrum, calling out MSNBC's Rachel Maddow and Keith Olbermann as "sick puppies."
Bush also blamed the nasty timbre of recent political discourse on the cable networks at large, saying "I don't like it. The cables have a lot to do with it."
Pulitzer Prize– winning jorunalist Ron Suskind appeared on The Rachel Maddow Show last night, saying that Bush 41 was really criticizing the behavior of Fox News, but instead chose to single-out Maddow and Olbermann. "George H. W. Bush understands that he has some responsibility for this … you know, Lee Atwater, George H. W. Bush, Roger Ailes — they were behind and away the start of modern day attack politics which has now spread 24/7."
Olbermann, who was also a guest on Maddow, agreed that Bush 41 was criticizing the very nastiness that he brought to politics and the Republican party, also calling out Roger Ailes by name. "It's easy to miss the irony here," Olbermann said. "He is the man who employed Roger Ailes." And we all know what he's been dealing with lately.
Maddow framed her interview with Olbermann, asking if he thought Bush's comments were "return fire" from the White House's recent push against Fox News.
Even though Bush's comments in the interview were ostensibly a call for civility, the former president put partisan spin on his criticism of Obama coverage even beyond the "sick puppy" comment, mentioning that his son, President George W. Bush, faced the same mean-spirited brand of criticism, and nobody came to his defense. If only Republicans had invented Anita Dunn, too.
At the end of the day, Bush's mention of Maddow and Olbermann should be great for ratings.
Rachel Maddow discusses President Bush 41's "Sick Puppy" comment, with audio from the Bush interview:


(h/t TV Newser)
Have a tip we should know? tips@mediaite.com